Event: Yazidi Genocide Remembrance
Date: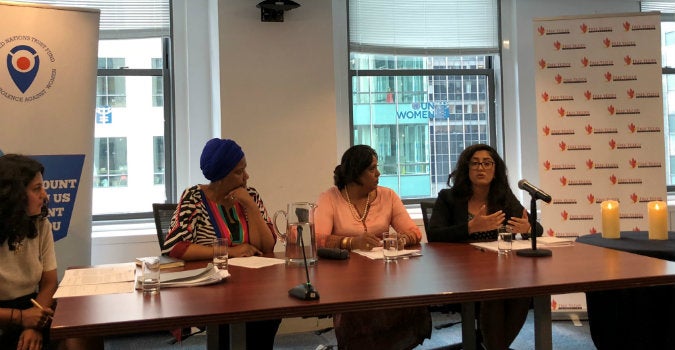 On 1 August 2018, ahead of the fourth anniversary of the ISIS attack on the Yazidi* community in Sinjar, UN Women Executive Director Phumzile Mlambo Ngcuka, UN Special Representative of the Secretary-General on Sexual Violence in Conflict Pramila Patten and Free Yezidi Foundation Executive Director Pari Ibrahim participated in a panel discussion to mark and remember the genocide victims.
The attack on 3 August 2014 was the beginning of a genocide against the Yazidi people, with at least 3,000 women and children still missing or held by ISIS.[1] The rich discussion, held at UN Women headquarters, focused on access to justice and accountability for the genocide victims as well as the need for trauma recovery and rehabilitation while ensuring survivors are kept at the center of interventions.
"We must invest in empowering civil society, especially women's organizations working at the front line of the response to the needs of women and girl refugees and IDPs, whose efforts could otherwise go unnoticed. The UN Trust Fund is doing this successfully and the Free Yezidi Foundation is a testimony to it, but we need strong and wider partnerships on board", said Ms. Mlambo Ngcuka, UN Women Executive Director during the discussion.
The Free Yezidi Foundation, a grantee of the UN Trust Fund to End Violence against Women (UN Trust Fund), supports Yazidi women survivors of violence in the Kurdistan Region of Iraq through a women's centre that provides trauma therapy and counseling, along with language classes and other empowerment interventions.
"We have seen an enormous change in the lives of women survivors", said Ms. Ibrahim, the Executive Director of the Free Yezidi Foundation during the event. "It is very important that survivors receive support from people who can understand them and not judge them." Ms. Ibrahim also stressed the link between how the community can only overcome trauma through seeking justice for these crimes.
Since 2017, the UN Trust Fund has supported projects under a special funding window working to prevent and end violence against women and girls in the context of the forced displacement and refugee crisis. In its second year of this special funding window, to be announced in mid-August 2018, the UN Trust Fund received 112 applications for a total amount requested of $57 million.
*The Free Yezidi Foundation uses the spelling "Yezidi" and the UN uses the spelling "Yazidi"; both are used in this piece.
[1] http://www.ohchr.org/Documents/HRBodies/HRCouncil/CoISyria/A_HRC_32_CRP.2_en.pdf