Learning hub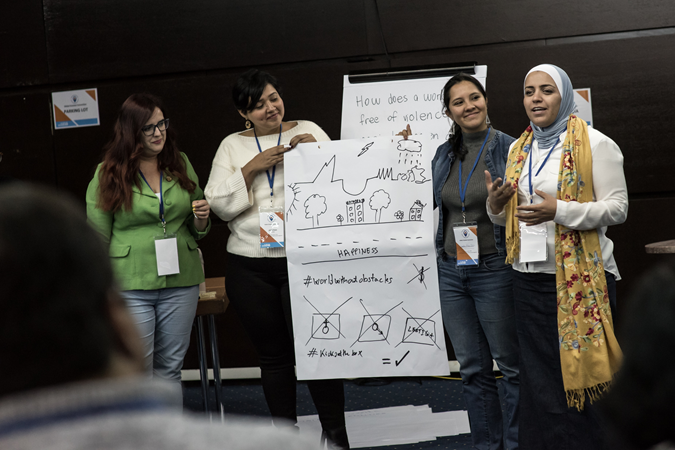 The UN Trust Fund to End Violence against Women (UN Trust Fund) harvests, analyzes and disseminates lessons from the projects it funds in order to build a stronger knowledge base for scaling up global efforts to eliminate violence against women and girls.
Learning and accountability
To promote learning and accountability, the UN Trust Fund supports knowledge management, monitoring and evaluation by the civil society organizations (CSOs) it funds.
Learning is collected, analyzed and disseminated in three ways:
All UN Trust Fund-supported projects receiving grants worth over USD150,000 must have a final external evaluation.
UN Trust Fund grantees must file an online report covering key performance indicators every six months, ensuring regular monitoring of projects.
Learning and knowledge exchange opportunities are organized, both on-line and in person, to provide the UN Trust Fund with data that it can analyze and share with grantees and partners.
This approach enables regular assessment of the capacity of CSOs to understand and apply good practices for ethical and safe data collection as well as management of gender-responsive evaluation, thereby improving the quality of UN Trust Fund evaluations.
Evaluation practice
Grantees recruit evaluators and are responsible for planning, managing and budgeting for evaluations. Recognizing that final evaluations are mandatory for most grantees, the UN Trust Fund offers them considerable support during evaluations but does not co-manage the process. Its support includes:
providing an adaptation of the UN Evaluation Guidelines and UN Women's Evaluation Handbook for use by CSOs; and
supplying grantees with standard templates, evaluation questions and other support.
The UN Trust Fund also conducts periodic meta-evaluations to improve evaluation support and assess the quality of evaluations.
In 2016, the first meta-evaluation of 77 final evaluations of projects funded in 2008-12 found that 60% of evaluations were satisfactory or better. Three years later, the meta-evaluation of 79 final evaluations of projects funded in 2015-20 found that 82% of evaluations were satisfactory or better, rising to 100% for projects that began in 2016.
Support for smaller projects
Rigorous, external evaluation practices can come at a significant cost and require expertise and resources that can be out of reach for some CSOs. Consequently, the UN Trust Fund is encouraging lower cost practice-based learning that brings practitioners, researchers and donors together and encourages donors to help bridge the gap between cutting edge evaluation methodologies and limited evaluation capacity on the ground.
In 2019, the UN Trust Fund began strategically selecting for evaluation a few projects funded by grants worth less than USD150,000, providing direct support to help manage the process. In the first year, it worked with two grantees running projects in Nigeria and Solomon Islands.
Disseminating practice-based knowledge
The UN Trust Fund has already invested in 172 final project evaluations, providing a significant body of practice-based knowledge available in its Evaluation Library.* You can search the library by region, country, grantee/organization type and theme.
The first meta-analysis conducted in 2016 synthesized lessons from 23 projects supported by the UN Trust Fund between 2008 and 2012. A second meta-analysis of 30 projects implemented between 2013 and 2019 was finalized in 2020.
The UN Trust Fund has also:
For the first time in its history, the UN Trust Fund is aiming to extract lessons systematically from its archive of evaluations along thematic lines and through a synthesis report. This will:
inform all those engaged with preventing violence against women and girls;
inform its own grant-making priorities; and
examine the critical role of CSOs in preventing violence against women and girls.
Watch this space!
Join the Global Community
In March 2022, the UN Trust Fund, in partnership with the Spotlight Initiative, introduced SHINE, an online hub for global knowledge exchange on ending violence against women and girls. SHINE aims to connect a range of partners and change-makers to co-create, collaborate and amplify knowledge. It's a space to share experiences and learn from others, in 50+ languages through instant translation.
UN Trust Fund Partners are invited to use this hub to network, share resources, exchange knowledge, problem solve and advocate for change together, through targeted consultations and communities of practice. Join the community now to share your valuable insights and join the conversation! Click here to register.
----
*The reports are based on work conducted by independent evaluators and evaluation teams, so may not reflect the analysis of the UN Trust Fund or its grantees or partners.
Featured Evaluation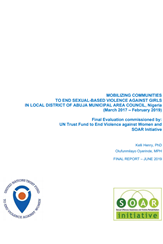 Final Evaluation: "Mobilizing Communities to end Sexual Based Violence Against Girls in Dushe local district of Abuja Municipal Area Council" (Nigeria). Click here to read the evaluation.