Event: Empowering refugee women and girl survivors of violence
"This training makes me be stronger than I was before" – Sarah Kayoosh*, a beneficiary of a project run by the Free Yezidi Foundation
Date: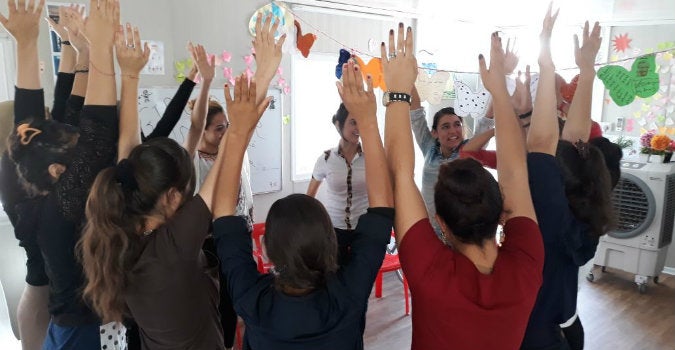 On 12 March 2018, the UN Trust Fund to End Violence against Women (UN Trust Fund) hosted "Bridging Development and Humanitarian Assistance", an event which brought together several of its grantees that are working to end violence against women and girls in the context of the current forced displacement and refugee crisis.
Attendees from UN Trust Fund-supported projects in Iraq and Jordan included: Wesal Abbad, Programme Coordinator with Arab Women's Organization; Gina Weires, Programme Officer for Afghanistan and Iraq with Women for Women International; Pari Ibrahim, Executive Director of Free Yezidi Foundation; and the session also included a representative from UN Women's Humanitarian Unit, Anna Theresia Thylin, Gender and Humanitarian Specialist.
The presenters shared their experiences of humanitarian aid localization while building more sustainable and durable interventions to address the pressing needs of women and girls often left behind in these fragile contexts. They shared insights about providing services to women survivors of violence in contexts of protracted humanitarian crisis, as well as their observations on why it is essential to support grassroots women's rights organizations. Among other takeaways, they highlighted that:
protracted crisis is increasingly becoming the "new normal", so projects need to look beyond the first emergency intervention towards more sustainable solutions for women and girls who are refugees or internally displaced;
women refugees often face psychological and circumstantial hindrances to participating in projects, from violence-related trauma and stigma, to economic, and logistical barriers like childcare responsibilities and transport and safety issues;
women's rights organizations are best placed to build strong relationships based on trust, with the communities in which their work is rooted; and
building specialized knowledge and investing in locally recruited experts are crucial when working with a traumatized population to ensure sustainability and local ownership.
The Free Yezidi Foundation explained how they use technology to connect UK-based trauma healing experts with Iraq-based survivors in practicing cognitive behavioral therapy, and work on long-term, sustainable solutions to build local expertise. In Duhok, for instance, they have enrolled 288 women and girls to their trauma and mental health therapy sessions, and trained three volunteers as para-professional, psychological first aid workers.
The Arab Women's Organization shared how their work to improve the capacity and quality of services in centres in Mafraq and Irbid serve both Syrian refugees and the Jordanian host communities. Women for Women International reported enrollment of over 600 women and girls in their social and economic training programmes in Erbil and Sulaymaniyah in the Kurdistan Region of Iraq. This kind of recovery and resilience building intervention is an essential component for rebuilding lives and livelihoods, as Lana Kalad*, a beneficiary shares:
"Sisterhood for me is a human right and how we can help each other. This kind of programme is very important to support women to get jobs and self-dependence, and to get more skills," said Lana Kalad* a beneficiary of the social economic training programme from Women for Women International.
This event was the first in a series of brownbag events to showcase the achievements of grantees, and was organized in conjunction with the 62nd session of the Commission on the Status of Women.
The UN Trust Fund's next cycle of grant-giving, to be awarded later this year, saw a 35 per cent increase in the applications submitted under the special thematic funding window for addressing violence against women and girls in the context of the forced displacement and refugee crisis – up from 83 in the previous grant-giving cycle to 112 applications received. The special window, now in its second cycle of receiving applications, also saw a 60 per cent jump in the total amount requested – up from $35 million to $57 million. One third of the applicants identified themselves as women's rights organizations.
The UN Trust Fund grantees under this special funding window are implementing projects which integrate humanitarian work, such as the provision of emergency services with longer-term solutions including economic empowerment training.
You can support inspiring organizations worldwide that prevent, respond to, and eliminate violence against women and girls by donating to the UN Trust Fund.
Virtually participate in the UN Trust Fund brownbag sessions during the Commission on the Status of Women by watching the sessions live on Facebook.
*Names have been changed to protect the privacy of the individual.