Cameroon: CAPEC empowers women and girls during COVID-19 lockdown
Date: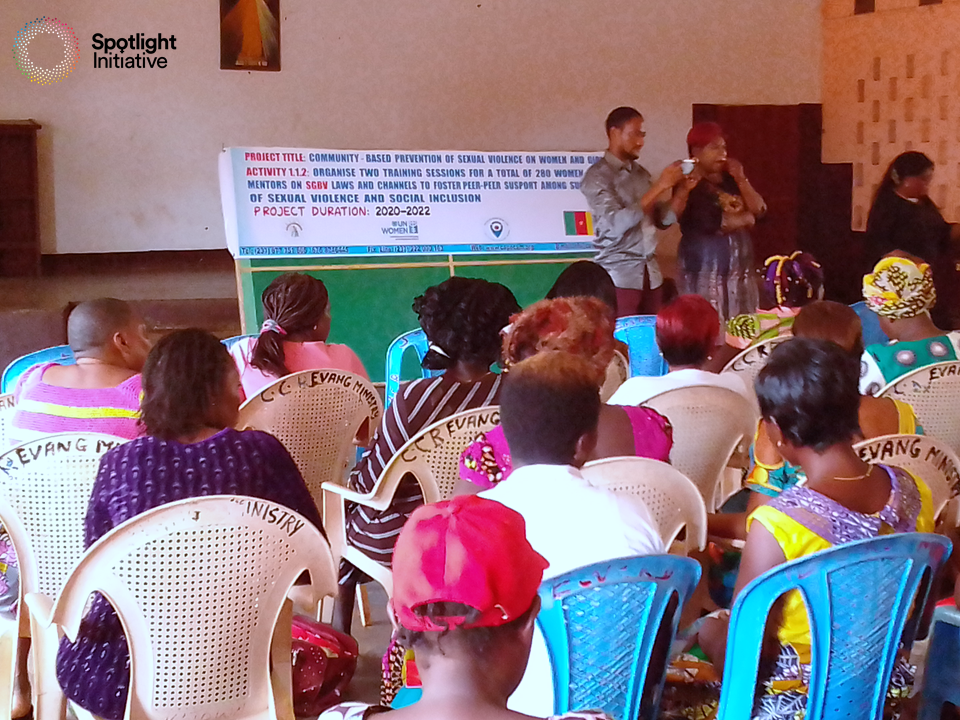 "Homes are among the unsafe places for women and girls as this is where they are sexually, physically and emotionally abused." – Ajomuzu Collette Bekaku.
Many women and girls around the world are at greater risk of violence during the COVID-19 pandemic, particularly as a result of lockdowns imposed to combat the spread of the virus. For some, home has become increasingly unsafe because they live with an abusive partner. For others, the lockdown has suspended or ended their income-generating activities, leaving them economically dependent on a violent partner. Many women also face additional burdens of unpaid care work.
The Cameroon Association for the Protection and Education of the Child (CAPEC), a grantee of the UN Trust Fund to End Violence against Women (UN Trust Fund), is leading a project on community-based prevention of sexual violence against women and girls. The lockdown is having a devastating impact on their beneficiaries, most of whom are women farmers and small traders in rural areas who make a living in open markets and the informal sector. Thus, these women find themselves without an income and at increased risk of violence while stuck at home.
Ajomuzu Collette Bekaku, CAPEC's Executive Director, explained:
"The pandemic has economic implications on households, a pressure which has now resulted in increased reports of household violence of which women are victims. Recent community testimonies indicate that homes are among the unsafe places for women and girls as this is where they are sexually, physically and emotionally abused by spouses or relatives."
Currently, CAPEC is reorganizing and reprioritizing its work to mitigate the risks of violence against women and girls, and maintain their well-being. Three impressive initiatives have already emerged.
In response to the government's policy on wearing protective masks, which not everyone can afford, CAPEC is training women to make masks and other personal protective equipment to sell. This is allowing women and girls to regain financial independence.
CAPEC is actively supporting local government to build capacities of health staff to cope with increased gender-based violence.
CAPEC is pushing for inclusion of their beneficiaries in emergency food distribution being carried out by the World Food Programme through the local relief organization Caritas Kumba.
From the outset of the pandemic, the UN Trust Fund has been listening to and communicating with all its current grantees to understand how the pandemic is affecting their work and to jointly find the best ways to support them during the crisis.
"When it comes to responding to the crisis in the front line, grantees such as CAPEC has shown an incredible amount of resilience since the pandemic began, especially in adapting and re-focusing their core programming in a way that both reduces economic vulnerability at the household level, but also ultimately prevents violence against women and girls," shared Shruti Majumdar, Monitoring and Evaluation Specialist of the UN Trust Fund.
In a virtual meeting with all grantees on 16 April, Aldijana Sisic, Chief of the UN Trust Fund, emphasized how grantees are rising to the challenges posed by the pandemic by swiftly developing innovative and inclusive initiatives to keep women and girls safe.