IDAHOT 2020: International solidarity as LGBTI people face heightened risks during COVID-19
Date: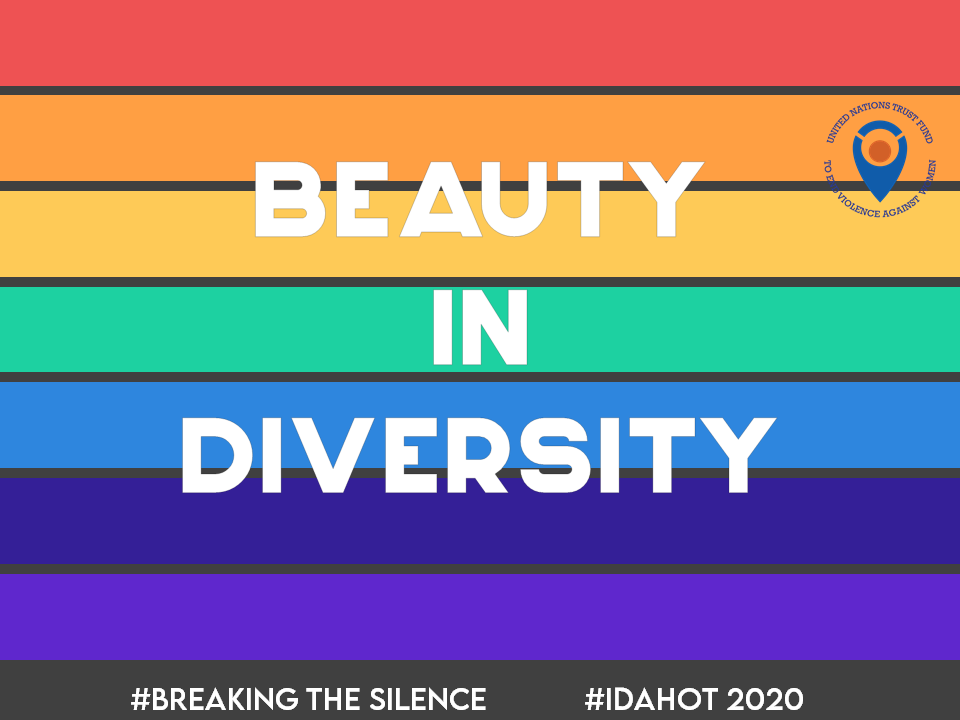 'Breaking the silence'
Today, 17 May, the UN Trust Fund to End Violence against Women (UNTF EVAW) stands with lesbian, gay, bisexual, transgender and intersex communities and organizations around the world to commemorate International Day Against Homophobia, Transphobia and Biphobia.
Solidarity is more important than ever this year because lockdown measures to stem the spread of COVID-19 are leaving lesbian, gay, bisexual, transgender and intersex (LGBTI) people at heightened risk of violence and of becoming invisible in reports of violence.
Lockdowns are trapping LGBTI people in homes with abusive and hostile family members. For LGBTI people who are homeless, physical distancing and safe hygiene practices become more difficult. For those requiring health care and treatment, including gender affirming processes, LGBTI-competent services are sporadic or unavailable.[1]
In Albania, a project run by Shelter for Abused Women and Girls (SAWG) in partnership with Streha, a shelter for lesbian, bisexual and transgender (LBT) women survivors of domestic violence (Streha LGBTI Shelter), is rapidly adjusting its work to maintain services for survivors of violence. Marsela Allmuça, project manager of SAWG, said:
"Service providers like us as shelters are facing difficulties in offering services in full capacity because of: lack of experience of dealing with gender-based violence in this situation; lack of [support in terms of] specific budget on addressing gender-based violence; and lack of standardized protocols and orders on how to proceed/operate in this situation."
With services stretched and diverted, the UNTF EVAW-funded project is providing direct services such as safe accommodation in shelters and rented apartments, food, hygiene materials and psychological support. However, as pointed out by Streha LGBTI Shelter's Executive Elvis Popaj, the situation is particularly difficult for transgender sex workers:
"They suffer from high rates of discrimination, homelessness and violence, and poor access to essential health care […] The pandemic has severely worsened their already difficult situation."
Across 14 states of Malaysia, UNTF EVAW grantee Persatuan Kesedaran Komuniti Selangor (EMPOWER) is working with Justice for Sisters (JFS) to help transgender women during the crisis. EMPOWER's Research and Resource Development Officer Nabillah Hijazu said that some transgender women are struggling with employment as they do not have reliable access to the internet to join workshops or access consultation services that are now only available online.
For Lorna Mesina, Portfolio Manager of UNTF EVAW, "Persisting gender-based stigma and discrimination continue to leave LGBTI youth and LBT women at particular risk of emotional, physical and economic violence. I am proud that UNTF EVAW-funded projects not only amplify the voices of the LGBTI community, but also empower and inspire generations of allies who will contribute to ending violence and marginalization of LGBTI people."
This year's theme for International Day Against Homophobia, Transphobia and Biphobia is "Breaking the Silence". It is crucial that the voices of LGBTI people are heard not just in the context of the global health crisis, but also permanently in everyday life.
[1] OHCHR. "COVID-19 and the Human Rights of LGBTI People". 17 April 2020. https://bit.ly/OHCHR-LGBTI