Final Evaluation: Drivers of Change (Pakistan)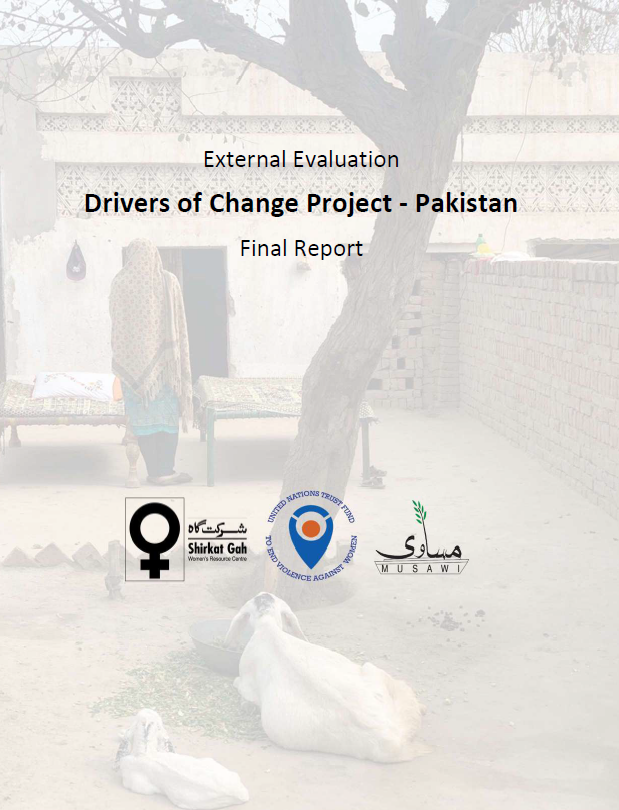 Location: Pakistan
Grantee: Shirkat Gah - Women's Resource Centre
Grant Period: 1 March 2017 to 29 February 2020
Grant Amount: USD500,000
Evaluation library summary:
Shirkat Gah-Women's Resource Centre implemented the "Drivers of Change" project from March 2017 to February 2020. The project worked in 40 villages across four districts in four provincesof Pakistan to shift attitudes in communities about violence against women and girls, and create a community-led, enabling environment for referral,redress and prevention of such violence. The project also sought to help empower the women economically to allow them a greater role in household decision-making.
Main findings of the evaluation:
All the survey respondents felt the project raised awareness about different forms of violence against women and girlsas well as redress mechanisms for survivors. Over 80% of the female respondents said thatwomen and girls in their communities had become more aware of their legal rights.
After the project, 93% of female respondents and 87% of male respondents stated that there had been a positive change in their thinking about violence against women and girls.
Most women who received loans through the project said this had empowered them and that they could now independently take out further loans, manage their interactions with the loaning entity, and continue their businesses without Shirkat Gah support.
View/Download: English
Bibliographic information