Final Evaluation: The Empowerment and Capacity Building of Lesbian and Transgender Women to Mitigate Violence, Stigma and Discrimination based on Sexual Orientation and Gender Identity (Thailand)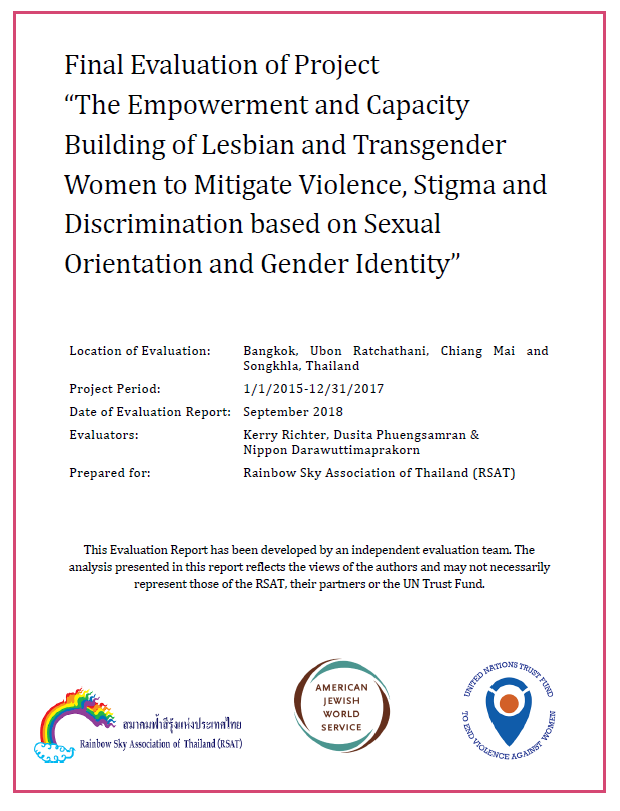 Location: Thailand
Grantee: Rainbow Sky Association of Thailand (RSAT)
Grant Period: 1 January 2015 – 31 December 2017
Grant Amount: $600,000
The Rainbow Sky Association of Thailand implemented "The Empowerment and Capacity Building of Lesbian and Transgender Women to Mitigate Violence, Stigma and Discrimination based on Sexual Orientation and Gender Identity" project for three years. The goal was to give lesbian and transgender women in four regions of Thailand greater freedom from violence, stigma, discrimination and human rights violations based on sexual orientation and gender identity, and provide them with improved access to assistance when violence does occur. The initiative included three levels of action:
To support lesbian and transgender women to better understand their rights and advocate for policy change.
To create a stronger monitoring, reporting and surveillance system to track cases of violence and discrimination against lesbian and transgender women.
To increase awareness and improve responsiveness of government agencies.
Main findings of the evaluation:
Government stakeholders were greatly influenced by the Rainbow Sky Association of Thailand (RSAT) on perceptions of sexual orientation and gender identity and about sexual minorities.
The project's sustainability is ensured by RSAT's inclusion on several government committees on gender equity and human rights to facilitate policy development for lesbian and transgender women.
The project facilitated collaboration across eight working groups of women leaders.
Project activities significantly raised the self-esteem and confidence of participants, and empowered them in their daily life.
View/Download: English
Bibliographic information