PRESS RELEASE: Spotlight Initiative, European Union and UN Trust Fund to End Violence against Women announce additional USD9 million for women's organizations during COVID-19 pandemic
Date: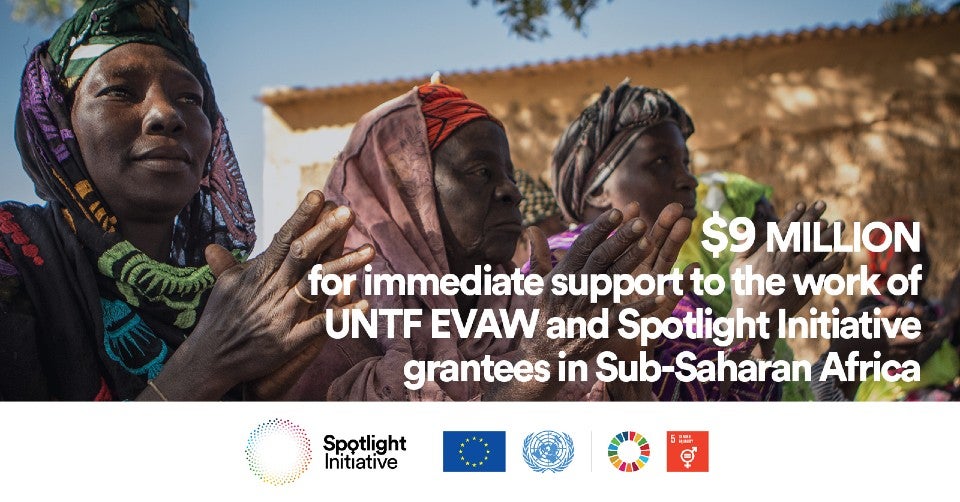 New York, 8 May 2020. In partnership with Spotlight Initiative and the European Union (EU), the UN Trust Fund to End Violence against Women (UNTF EVAW) will allocate an additional USD9 million for immediate support to all its existing grantees in sub-Saharan Africa.
Up to 44 civil society organizations will be eligible to receive financial assistance, with a primary focus on institutional strengthening, risk mitigation and survivor recovery in the context of the Coronavirus disease (COVID-19) pandemic.
COVID-19 has resulted in alarmingly high rates of violence against women and girls, while impeding the ability of many organizations – particularly small women's organizations – to continue their essential work. The pandemic poses a threat to the implementation of their projects, their sustainability, and to the safety of the many women and girls who rely on them.
"Violence against women and girls was a pandemic long before COVID-19," said UNTF EVAW Chief Aldijana Sisic. "Small and women's rights organizations continue to be on the front line of the global response to violence against women and the global COVID-19 response." She continued. "It is imperative that these organizations are appropriately funded to leave no women and girls behind during these unprecedented times."
"The COVID-19 reality is compelling us to reconsider how we do development assistance," said Spotlight Initiative's Head of the Technical Unit and Senior Technical Adviser Erin Kenny. "Increasing and allowing for greater flexibility in the funds our civil society partners receive is not just an effective crisis responsive measure, it is a model for our post-pandemic future."
"The European Union is proud to be part of this lifeline support to women's and grassroots organizations which will enable a quick and people-oriented response to the challenges presented by COVID-19," said Chiara Adamo, Head of the Gender Equality, Human Rights and Democratic Governance Unit in the European Commission's Directorate-General for International Cooperation and Development.
All UNTF EVAW active grantees in sub-Saharan Africa have been invited to submit a request for additional funding of up to 43 per cent of their currently approved grant for their existing UNTF EVAW-supported projects. These funds can be used for a variety of expenses to adapt and respond to the challenges presented by COVID-19.
Spotlight Initiative, the EU and UNTF EVAW are honored to support the critical work of grassroots women's organizations as they confront the dual pandemics of COVID-19 and violence against women and girls.
For media inquiries, please contact: