Case Study: Harnessing the power of education to end violence against young women and girls in Serbia
'Nothing about violence should be normalized' – Djurdjina Cvetinovic, a student in Belgrade
Date: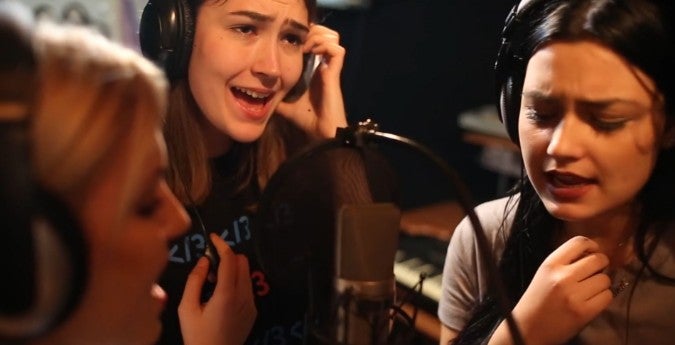 In Serbia, despite having comprehensive legislation in place addressing violence against women and girls, attitudes to gender-based violence remain entrenched; in a recent UNICEF report, 44 per cent of boys believed that sexual harassment of girls is acceptable.[1] Recognizing the need of interventions in schools, the organization Autonomous Women's Center (AWC), funded by the UN Trust Fund to End Violence against Women, works to make young women and girls safer in Serbian schools by engaging students and teachers in actively addressing violence, improving educational practices and raising public awareness.
As in many contexts, AWC found that Serbian schools were often underequipped to recognize violence against young women and girls appropriately, and therefore cases of harassment went unreported. In addition, AWC identified entrenched prejudice and stigma against survivors of violence.
The project – "No tolerance for gender-based violence: Feminist change of the educational system" – piloted a comprehensive approach to end violence against women and girls in 30 high schools and 8 universities. Strategies deployed included educating young people and teachers on gender equality, violence against women, gender stereotypes and discrimination; practical exercises; and public policy initiatives to change attitudes and behaviours.
Training sessions on gender-based violence for students and teachers were particularly popular and informative for participants; 100 per cent of students thought the workshops were useful. Djurdjina Cvetinovic, a student, said, "What I've learnt is that nothing about violence should be normalized, and that violence isn't just slaps and beating, but that it is a much wider notion".
AWC ensured the active participation of participants from a wide swath of the community including underserved groups of individuals; at least 10 per cent of participants in AWC trainings were Roma, persons with disabilities, survivors of violence, and members of the lesbian, gay, bisexual and transgender community.
Jelena Bogdanovic, a student in Nis, added, "My greatest impression was the feeling of security that we created at the training, in the sense that we could talk about our most painful moments… I realized it is OK and is necessary that we talk about these issues".
During its three years of implementation, the project trained over 400 teachers to improve their knowledge of school-related gender-based violence, and the responsibilities of school officials to report violence.
One school director commented that the, "AWC project answered some of the dilemmas that teachers had, how to approach the situation of violence [...] We've increased the number of teachers that can provide support".
The project also pursued systemic changes in education policy to ensure instruction about gender-based violence is fully integrated into school curricula through developing educational materials and policies against sexual harassment. Based on the model promoted by AWC, one of the universities, the Faculty of Law-Union University, adopted a policy against sexual harassment. The policy is also under consideration at a second university involved in the project.
------
For practical resources on methodologies and approaches in addressing school-related gender based violence (SRGBV), please consult the Global Guidance on School-related Gender-based Violence, developed by UN Women and UNESCO. This guidance provides key information for governments, policymakers, teachers, practitioners and civil society to take concrete action against SRGBV.
[1]http://www.ungei.org/resources/files/Serbia_SWV_GBV_Case_Study_Fin1_(2).pdf