Case Study: Engaging men to prevent violence against women in Turkey
Date: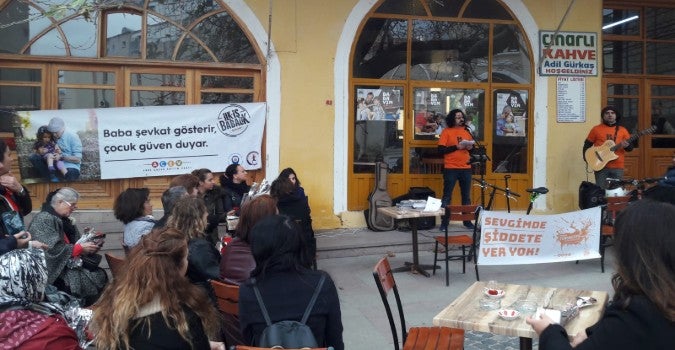 In Turkey, stereotypical gender roles remain entrenched in the society where approximately only 27 per cent of women participate in the workforce outside of the home.[1] Further, violence against women in Turkey remains prevalent, with recent estimates confirming that approximately four in ten women have experienced intimate partner physical or sexual violence in their lifetime.[2] The Mother Child Education Foundation (ACEV), funded for the second time by the UN Trust Fund to End Violence against Women (UN Trust Fund), works to prevent violence against women by using the role of fatherhood as an entry point.
Through a community-based approach, ACEV's work seeks to facilitate long-term change in the behaviours of adult men to benefit women and girls. In order to change behaviours, ACEV instituted an innovative Father Support Programme; a 10-week parenting programme for fathers to transform gender-normative attitudes in the home. The programme focuses on topics such as; responsible parenting, anger management and gender sensitive behaviour in the home.
Following the trainings, a final external evaluation showed that 43 per cent of fathers took on more responsibility in child development and household duties and applied non-violent communication methods. Further, measures of the acceptance of men as the heads of the household by the fathers showed a 40 per cent decrease. "[My husband] was really affected by the Father Support Programme. His relationship with me and the children has gotten better," said one spouse, Ekram*, of a father who participated.
Through this work with men, the project's goal is to ensure that women are empowered to claim their rights, experience greater support in parenting responsibilities, and have a violence-free family. The final evaluation of the project found that incidents of physical violence to women and children decreased after fathers attended the training.[3] Fatima, 32, shared the impact of the project on her family: "When my husband attended your training, he started listening to me – saying I, too, have rights and a say in our discussions. After attending sessions, he became a completely different man, sharing chores in the home, patient with me and his children, controlling his anger and striving to show more affection." The project reached 6045 fathers through 471 Father Support Programme groups in five provinces in Turkey.
The project also sought to create sustainable long-term change in Turkish society. Through three advocacy campaigns promoting gender equality in the home to prevent violence, ACEV's messages reached more than 2 million people in 2018. In addition, together with ACEV, 150 graduates of the programme created 9 new local fatherhood groups to extend the reach to be a nation-wide network of men who stand for gender equality.
"He started taking on more responsibility around the house. We [are now] clearing the dinner table together. […] He had grown up in an environment where he was told that men don't do such things", said Ekram about the change she experienced from her husband as a result of the project.
[1]https://www2.unwomen.org/-/media/field%20office%20untf/publications/2019/final%20evaluations/c19_tur_acev_fe-compressed.pdf?la=en&vs=2047
[2]http://evaw-global-database.unwomen.org/en/countries/asia/turkey
[3]https://www2.unwomen.org/-/media/field%20office%20untf/publications/2019/final%20evaluations/c19_tur_acev_fe-compressed.pdf?la=en&vs=2047
*name of the individual has been changed