Case Study: Girls in football say NO to violence in Nepal
[Using our] voice against violence is the best solution", said Sunita Tunag*, a student at the Shree Saraswoti Higher Secondary School in Nepal.
Date: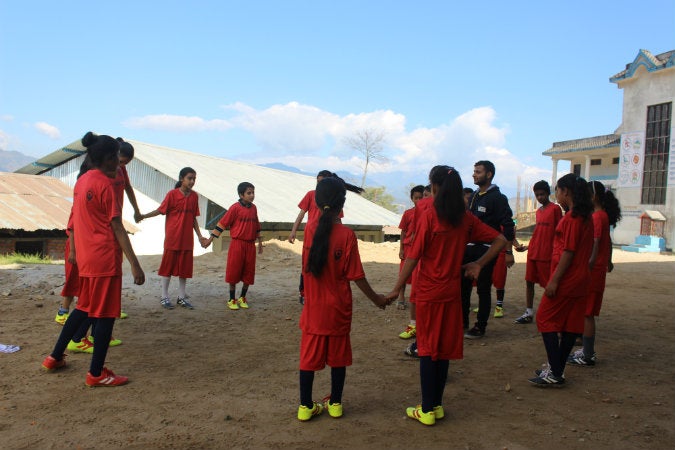 School-related gender-based violence affects more than 246 million children each year.[1] In Nepal, a study found that 14 per cent of students who dropped out of school could be attributed to fearing violence from a teacher, which often disproportionately impacts girls' access to education.[2]
Preventing violence is a key priority area of funding for the UN Trust Fund to End Violence against Women (UN Trust Fund), as interventions at an early age are key for sustainable change. A two-year project run by the NGO Skillshare, funded by the UN Trust Fund, used sport to build the confidence of girls to challenge gender stereotypes. A two-pronged strategy of football coaching and life skills workshops empowered girls to stand up for their rights and raised awareness about gender-based violence among boys and school staff. Sunita Tunag, a student at Shree Saraswoti Higher Secondary School, said "I was unaware about different acts that include gender-based violence and its consequences. From the project, I came to learn about gender-based violence, my rights as a girl and how I can fight against gender-based violence."
The project was implemented in five schools in three districts of Kathmandu valley – Viz Kathmandu, Lalitpur and Bhaktapur. In addition to football coaching and information cafes for students to discuss gender-based violence, each school implemented a code of conduct for teachers and students and trained 50 teachers (40 male and 10 female) to adopt gender sensitive teaching methods. The schools worked to make the institutions safer for girls including making improvements to toilet doors and windows and provided secure changing rooms for girls taking part in sports.
"GBV was new topic for me. I had never thought in the past whether the language I am using is gender sensitive or not. Similarly, the resource materials I used and examples I cited in many occasions were found [to be] gender biased […] After adopting gender responsive teaching practices, the classroom participation of girls in class has increased", said Gautam Khanal, a teacher in Okhreni Secondary School of Sundarijal in Kathmandu.
In total, the project reached 993 female students and 1160 men and boys, teachers, and members of the community. The final evaluation showed that 75 per cent of girls who participated in the project reported that schools are now safer for them, as compared to before the project began. Nenish Sumang, a boy in the 9th grade of Okhreni Secondary School of Sundarijal in Kathmandu, Nepal said, "I used to tease girl students […] After participating in the project activity, I got [the] chance to interact with female students and learned how my activity hurt them."
By the end of the project, 86 per cent of students could identify specific acts of violence, up from 42 per cent at the start of the project. In addition, through the newly established reporting mechanisms, 81 cases of gender-based violence were reported across the 5 schools during the project period, and at the time of the final evaluation, 40 cases were already addressed through the institutional systems now in place.
----------------------
In 2017, the UN Trust Fund funded 17 grantees to improve the curriculum or implement policies, practices or services to prevent and respond to violence against women and girls in 333 schools.
*Names have been changed to protect the identity of the individual.
[1] https://www.unwomen.org/en/digital-library/publications/2016/12/global-guidance-on-addressing-school-related-gender-based-violence
[2] http://unesdoc.unesco.org/images/0022/002267/226754E.pdf