Case Study: #HearMeToo: Voices of survivors of Khmer Rouge violence in Cambodia
Date: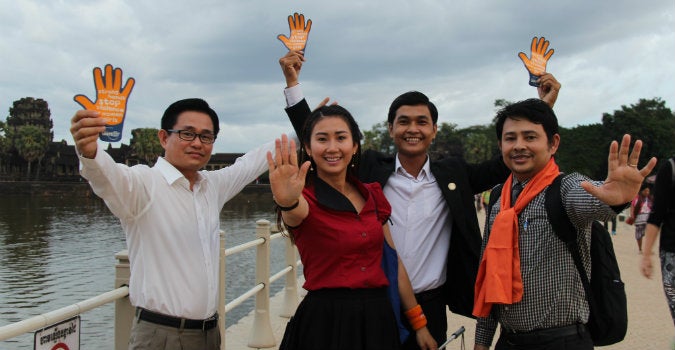 "I have hidden my story for many years since I was forced to marry my husband. […] Now, I have understood the impacts on my mental health and started to share my story with my family and neighbors", said Keo Peoun, a survivor of violence from the Khmer Rouge regime.
From 1975 to 1979 the Khmer Rouge committed specific forms of sexual and gender-based violence, including systematic forced marriage and rape, while carrying out mass killings in Cambodia. Since 2011, the UN Trust Fund to End Violence against Women (UN Trust Fund) has funded two generations of projects to support the work of the Victims Support Section of the Extraordinary Chambers in the Courts of Cambodia (ECCC). The projects ensured that women survivors of violence under the Khmer Rouge regime became visible and have access to justice and reparations, as shown by the evidence generated through project implementation and through an external evaluation.
In 2018 alone, during the second phase of funding, the Victims Support Section has already supported 546 women survivors of violence to participate in court hearings and forums, including minority women and those from remote provinces. The testimonies collected through interviews with 80 survivors of forced marriage showed that discrimination experienced in their communities has decreased significantly since the project began in 2011. The change is attributed to a growing understanding of gender-based violence perpetrated systematically by the Khmer Rouge, and due to increased empathy towards survivors.
Keo Peoun said, "I have kept the pain only for myself and struggled in life alone. I think it looks good from the outside, but it is not good for myself. I felt that my real sufferings were not understood. […] Now, I feel more supported, and relieved."
Survivors have been supported to participate and speak in public to share their stories with the community and with the younger generation through forums, radio shows and intergenerational dialogue. These events have made many participants feel empowered to transform their experiences of suffering into lessons learned for the country's future.
"Before [the] testimonial therapy, I saw myself as a sick and weak person that cannot do anything well. [But], when I had my testimony compiled, I became impressively aware of my own strength and I am very proud of myself for struggling in life and raising 10 children alone", said Moung Prang, 61 years old.
Women explained that sharing stories with young people and future leaders makes them feel hopeful that the next generation will not allow mass human rights violations and violence against women to happen again in Cambodia. "I always think that my life is very sad and I used to dream of having someone help re-construct my life story. […] Now, I feel my dream has come true when [the project] helped to re-construct and document my life story and I am so excited", said Ms. Seng Sopheap, a 67-years- old survivor of Gender-Based Violence under the Khmer Rouge regime from Siem Reap.
The Victim Support Section ensured the sustainability of reparations projects by raising USD 5 million for the continuation of work with Khmer Rouge survivors, including women subjected to forced marriage.