Case Study: Cambodia: Ensuring survivors have access to the services they deserve
"The training I received is like a diamond"
Date: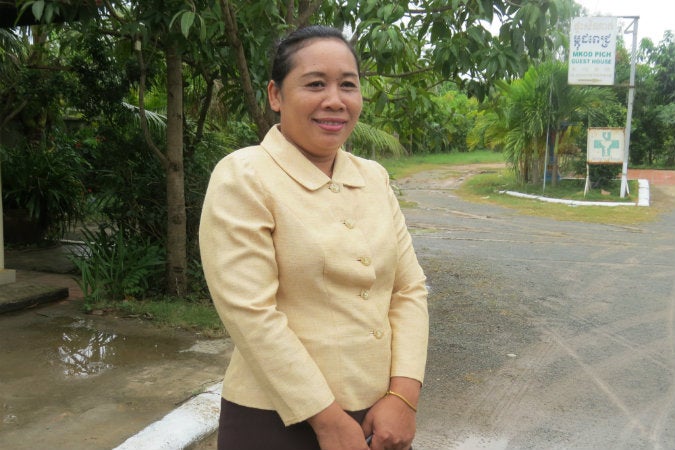 The National Survey on Women's Health and Life Experiences in Cambodia (2015) found that one in five women in Cambodia have experienced physical and/or sexual violence by an intimate partner in their lifetime, leaving them with long-term implications for their physical and mental health. Poor access to often inadequate services for survivors further exacerbates the consequences of violence, potentially resulting in the loss of women's engagement in work or school.
World Hope International (WHI), a grantee of the UN Trust Fund to End Violence against Women (UN Trust Fund), is working to improve the effectiveness and efficiency of service provision to survivors of violence in Cambodia, with the aim of ending and preventing violence. "Government social workers assigned to communes [small groups of villages] have a broad mandate", says WHI Cambodia Director Talmage Payne, "[as] they work with youth, veterans, women and children". This affects service providers' ability and preparedness to respond to the specific needs of each of these constituencies.
The UN Trust Fund-supports WHI's delivery of training to government social workers and local commune leaders, enabling them to provide adequate and timely services to women survivors of violence in four districts in Kampong Speu province. The project aims to improve the quality of:
counselling;
case management;
client referrals;
referral and coordination between service providers.
In its first year, the project trained 31 social service providers. Srey Linna, one of the beneficiaries, said:
"The training I received is like a diamond in my career as a social service provider. The best thing about the format is that training does not stop in the classroom – the project gives us support and feedback outside of the classroom, when dealing with actual clients." She went on to say, "The training has helped me… approach complex issues. There is a process that I follow now, and I am able to refer clients who need special support."
During the first year of project implementation, the service providers have offered counselling to 109 women, nine of whom have filed legal complaints about violence.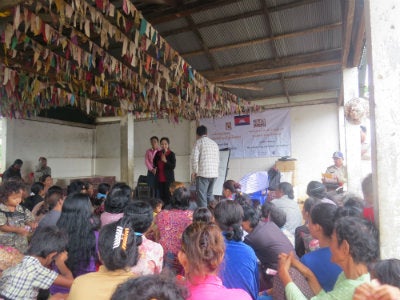 WHI also raised awareness about violence against women, and ran 30 community-based events in 2017, attended by commune leaders, police chiefs and people in the communities. These provided 2,000 women and girls with information about services for survivors of violence as well as a basic understanding of violence in the community. Tey Sam,* a woman who participated in outreach events organized by WHI said:
"Before, I didn't know how to report when violence happens in my family or in my village. I [am] aware [of] the cause and effect of violence and how to report after participation with you and I will share to my friend[s] and classmate[s] as well."
Tests were held before and after each event, which showed there was a marked improvement in the understanding of the negative effects of violence against women in families. Following the events, community leaders reported that women had become more willing to report violence, a trend also observed by WHI.
--------------
One of the UN Trust Fund priority areas of funding is to improve access for women and girls to essential, safe and adequate multisectoral services. WHI is one of 39 grantees that the UN Trust Fund supports to improve service provision for survivors of violence by training providers; in 2017 these grantees trained 5,591 service providers globally.
*Name changed to protect the privacy of the individual.