Case Study: Leaving no one behind in Cairo
Date: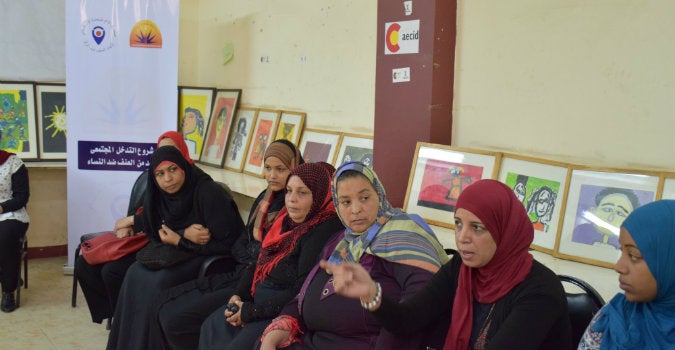 "When I first came to Al-Shehab's volunteering unit, I was a bit of an introvert. I wasn't very ambitious or opinionated, and I was afraid of mixing with boys because of what I have always heard about sexual harassment and also because of the harassment I face in the streets." —Sarah Fawzy (19) beneficiary of Al-Shehab's project implemented in Ezbet El-Haggana, one of the largest informal areas in Greater Cairo.
In the informal settlements of Ezbet El-Haggana and El-Marg in Cairo, which are home to about one million people, women and girls from some of the most marginalized communities often struggle with poverty, high rates of illiteracy, and barriers to medical, legal and economic services. Starting in 2015, the Al-Shehab Institution for Comprehensive Development, funded by the UN Trust Fund to End Violence against Women (UN Trust Fund), established a community drop-in centre focused on providing essential services for women and girl survivors of violence, women living with HIV/AIDS and those at risk, as well as for women domestic workers. The objective was to create safe, stigma-free and accessible services. Al Shehab recognizes the reality that women living with a positive HIV/AIDS status are more likely to experience violence, while at the same time exposure to violence increases women and girls' vulnerability and risk of acquiring HIV.[1]
The project ensured health, legal and psychological services through anti-violence programmes, to 1,662 women, including 349 survivors of violence, 247 domestic workers, 107 women living with HIV/AIDS and 959 women at risk of sexual exploitation. Fifty eight per cent of these beneficiaries returned to the drop-in centre at least three times to follow-up on the services they received. Those at high risk of HIV/AIDS, particularly women identified to be at high risk for sexual exploitation, reported being empowered to protect themselves from HIV/AIDS and from other sexually transmitted diseases.
The project has raised the consciousness about the unacceptability of violence against women. For instance, as part of the final evaluation 35 women who participated in the project were interviewed and reported that before their participation, they considered street harassment and domestic violence as a normal part of their lives, whereas now they all report that domestic violence is no longer acceptable in their minds.
"Today, I have much more self-confidence and I'm not afraid of interacting with anybody or voicing my opinion", said Sarah Fawzy about the change she sees in herself.
In addition, among 2142 men and youth who participated in the awareness-raising sessions, seventy two per cent improved their understanding of women's rights, of women's susceptibility to HIV/AIDS and of the intersection between HIV/AIDS and violence against women.
Miriam, aged 18, shared her thoughts on the project; "I joined to help myself and become strong, and to learn how to never be silent when I see or face any violation. […] After a while, I found that through helping others I am actually helping myself indirectly, and this is a beautiful and motivating thing."
[1] https://www.unwomen.org/en/what-we-do/hiv-and-aids/facts-and-figures