Video story: Specialized support services for refugee and Jordanian women and girls
Date: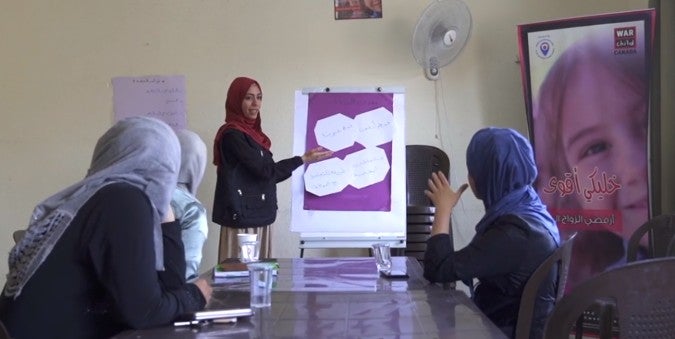 In two underserved communities east of Amman, Nuzha and Sahab, the UN Trust Fund to End Violence against Women's (UN Trust Fund) grantee War Child Canada runs a project for Jordanian and refugee women and out-of-school girls. Part of the UN Trust Fund's special funding window to prevent and end violence against women and girl refugees in humanitarian crises, War Child Canada operates two women's centres. The centres run a 15-session programme which includes psycho-social support and referral services for women survivors of violence and life-skills classes, for Syrian, Yemeni, Somali and Iraqi refugee women and their families, as well as local Jordanian women and girls in the host community.
Aseel Qudah, a psycho-social support counselor working with War Child Canada, explains how their work supports women survivors of violence in the community.
"We provide psycho-social support and education classes including stress relief sessions. […] Our sessions range from social and psychological issues to topics that affect individuals and their life-skills. We help [women] develop self-esteem, self-appreciation, and raise awareness about their basic human rights. […] The essential goal of each first session is to make sure the woman is comfortable and free to talk, establishing a professional relationship based on trust and acceptance, and assuring her confidentiality and privacy. […] Most of the women feel very tense on the first session, but as soon as they realize that this is a place where they can feel safe and that we are here at their service, they become interested in coming back and repeating visits. […] Life-skills trainings for young girls are focused on raising their awareness about their rights, especially women's rights. Their rights to education, thoughts and opinions, and their right to define and plan their future on their own, including choosing a suitable partner."
Women and girls enrolled in the project report an increased awareness of their rights. In addition, after taking part in sessions focused on life-skills, psychosocial support, legal awareness, literacy and women's support groups, 75 per cent of women and girls say they feel safer and better protected in their community. So far, the project has reached 1,100 women and girls.
Watch this video about War Child Canada's work to support refugee and Jordanian women and out-of-school girls through two Amman based women's centres.
---
War Child Canada is one of 36 UN Trust Fund grantees working to ensure that women and girls have access to specialized support services to end violence against women and girls. Last year, through the work of these grantees, 22,383 women and girls around the world accessed services like legal and psycho-social support. Donate to the UN Trust Fund today to ensure that women and girls around the world can continue to have access to such services.