Final Evaluation: Justice for Women Leaving Slavery (Mauritania)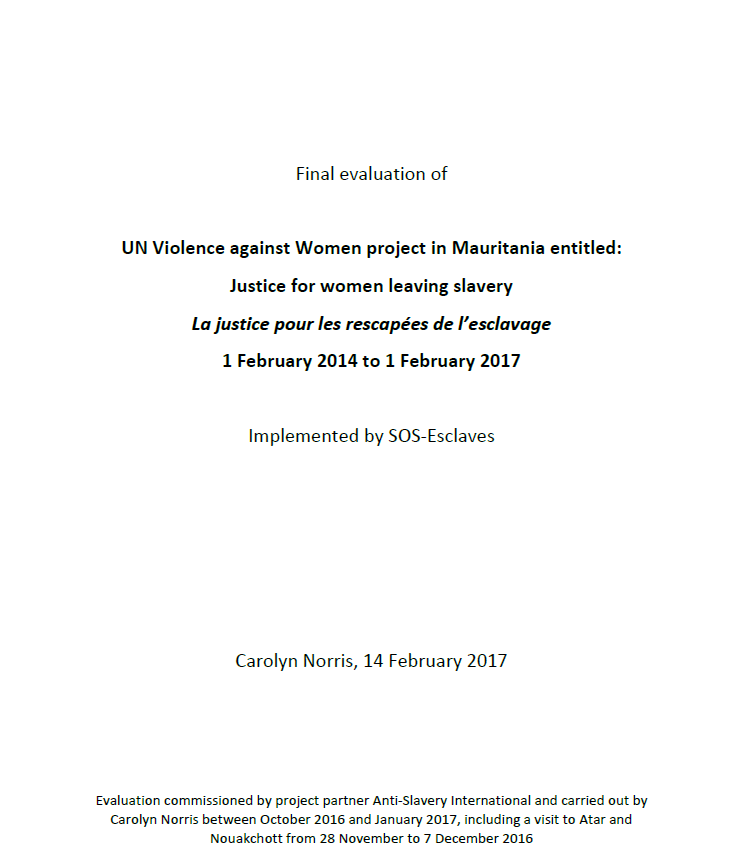 Location: Mauritania
Grantee: SOS-Esclaves
Grant Period: 1 February 2014 – 31 January 2017
Grant Amount: $417,812
Authors/Editors: Carolyn NORRIS
Publication year: 2017
SOS-Esclaves implemented in Mauritania the initiative "Justice for Women Leaving Slavery" in partnership with Anti-Slavery International. Built on an extensive program of activities within the country and international advocacy, the project focused on women and girls leaving slavery and the children released with them. It allowed children to be enrolled in schools and provided women with information to ensure their social integration through training.
Main findings of the evaluation:
The project was well designed for the context and made good use of the major strength of SOS-Esclaves – cooperation with government institutions – while retaining its integrity and independence.

In reaction to pressure from organizations such as SOS-Esclaves, the government passed an enhanced anti-slavery law in 2015 that defined slavery as a crime against humanity, set up specialized regional tribunals, lengthened prison sentences for this crime, and increased compensation for victims.

The steps taken to end slavery were significant and the capacity building work will ensure sustainability.
View/Download: English
Bibliographic information