Indicators of success: Aggregating grantee results
Date: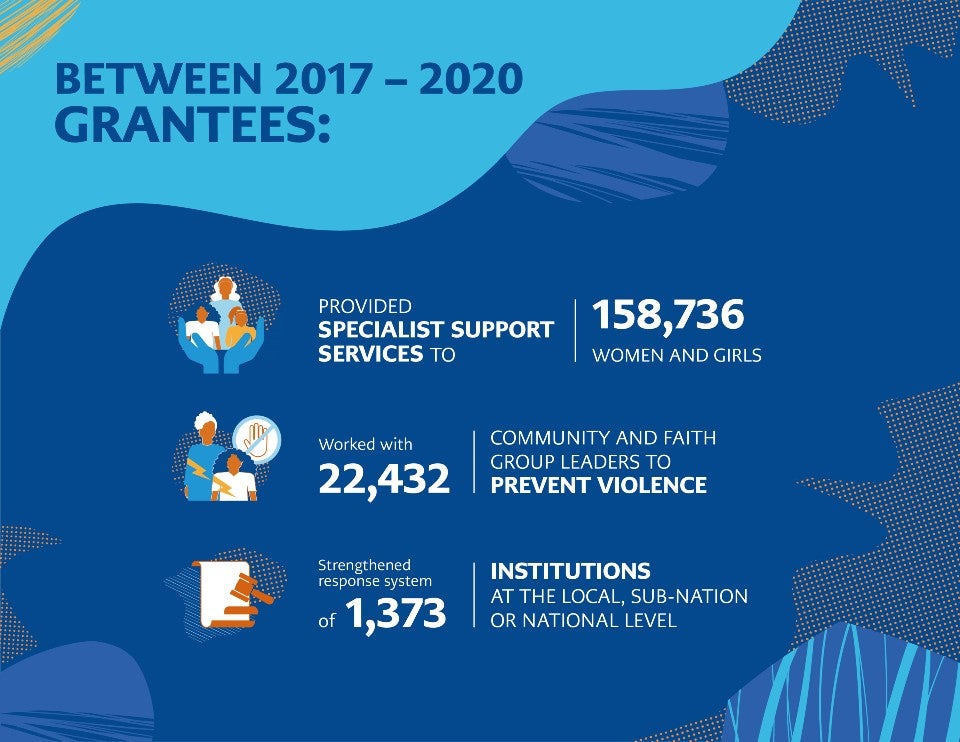 During the UN Trust Fund's Strategic Plan 2016-2020, funding was increasingly focused on the ability of small, locally rooted civil society and women's rights organizations to deliver services and activities that directly transform the lives of women and girls in their communities. Over the past five years, UN Trust Fund grantees achieved results in the three priority areas of project implementation: preventing violence, ensuring access to essential services for survivors, and improving the implementation of laws and policies. These results have validated a focus on women's rights organizations and paved the way to the direction of future work of the UN Trust Fund under its new Strategic Plan 2021-2025.
For example, over the course of the last Strategic Plan[1], through the work and support of 136 UN Trust Fund grantees, 22,432 community and faith group leaders advocated publicly for changes in behaviours, practices and attitudes towards preventing and ending violence against women and girls, including harmful practices. In India, physical violence within the household fell from 71.1 per cent to 46.5 per cent by the end of the project in the Jeevikka operation area (24 districts) during a project implemented by UN Trust Fund grantee, the Sahayog Society for Participatory Rural Development, which enlisted community leaders to encourage change.
In addition, projects funded by the UN Trust Fund in this period expanded access to multisectoral services, directly benefiting a total of 158,736 women and girls from specialist services. Services include long-term psychological counselling, medical care, shelters, SOS helplines and legal aid. Ensuring access to safe and adequate services was a cornerstone of many grantees' COVID-19 response plans in 2020. For example, in Chad, the Public Interest Law Center created a temporary shelter, beyond its permanent counselling centres, to provide additional support for women in need.
Many grantees reported facing challenges in ensuring women's rights organizations were included in COVID-19 response planning in 2020. Nevertheless, over the course of the last Strategic Plan, UN Trust Fund grantees supported at least 1,373 local, sub-national or national government institutions to improve their effectiveness in preventing and responding to violence against women and girls. During this time, UN Trust Fund-supported projects have also worked to develop or improve at least 133 policies or protocols at various institutional levels on violence against women and girls. For instance, the project Help Age International in Moldova provided key recommendations for integrating the needs of older women survivors into the National Strategy on preventing and combating violence against women and violence in the family for 2018-2023.
Monitoring of 15 common indicators across the entire UN Trust Fund's portfolio of grantees helps highlight the scope and reach of results and shows the benefits of funding for women and girls. Stay tuned for the UN Trust Fund's upcoming Annual Report for a full overview of the results of the UN Trust Fund grantee portfolio over its last Strategic Plan.
[1] The first year for which measurements were available during the 2016-2020 Strategic Plan was 2017.