Women and girls directly benefited in 2020
Date:
"It is clear that the increased rate of violence against women and girls is a result of the effects of the pandemic"
Iheoma Obibi, Executive Director, Alliances for Africa, working in Nigeria.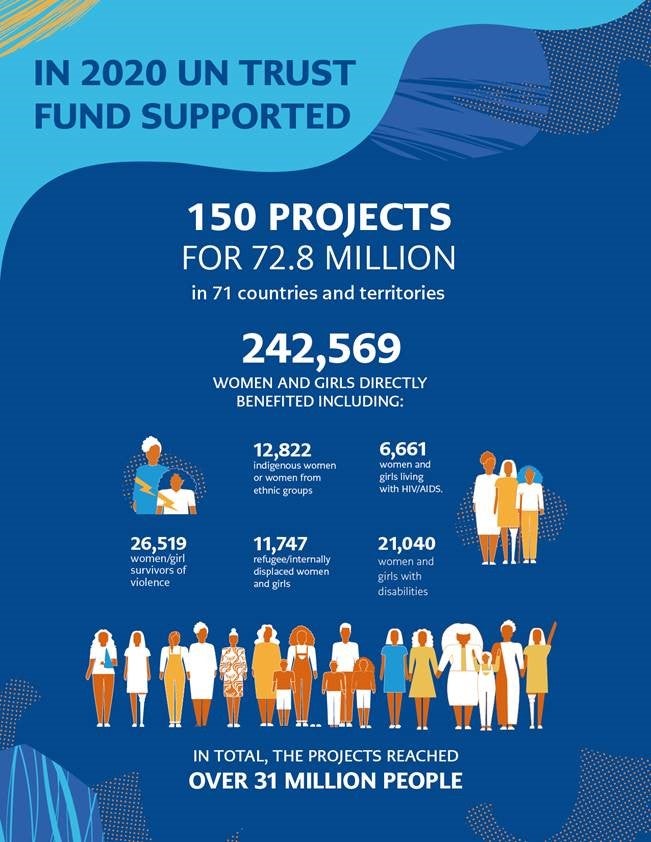 During 2020, the COVID-19 pandemic and adverse consequences of measures taken to curb its spread exacerbated a situation in which violence against women and girls globally was already widespread and prevalent. UN Trust Fund to End Violence against Women (UN Trust Fund) grantees adapted swiftly to help protect and support women and girls in 2020 during the unprecedented global crisis sparked by the COVID-19 pandemic.
Overall, in 2020, at least 242,569 women and girls directly benefited from support that led to transformative changes in their lives, including through services or changes in social norms, attitudes and behaviours, through the work of UN Trust Fund-supported projects.
Among those who directly benefited in 2020 included at least:
26,519 women/girl survivors of violence
21,040 women and girls with disabilities
12,822 indigenous women or women from ethnic groups
11,747 refugee/internally displaced women and girls
6,661 women and girls living with HIV/AIDS.
In total, UN Trust Fund grantees reached over 31 million people, mostly women and girls, through initiatives such as awareness raising campaigns to prevent and end violence against women and girls. For instance, many grantees were agile in turning to virtual programming and achieved successes despite challenging circumstances. In Eswatini and South Africa, SONKE, a women-led human rights civil society organization was able to reach many more people than originally targeted due to changes in their working modalities during the pandemic, reaching at least 6,378,352 people through community radio, media and advocacy campaigns in 2020. In addition, 2,672 women benefited through telephone counselling services from SONKE, during the COVID-19 lockdown, to provide essential services to women and girls.
Despite the extremely challenging circumstances, grantees achieved significant results in reaching women and girls, often because they nimbly adapted to the rapidly changing context, with support from the UN Trust Fund. Alliances for Africa, a UN Trust Fund grantee working in Nigeria under the Spotlight Initiative, mobilized support for the inclusion of women in all COVID-19 task force committees; monitored the distribution of government relief materials to increase accountability; and broadcasted reliable information on COVID-19 to counter misinformation and help stop the spread of the virus. As a result, the grantee reached at least 1,840 women and girls through such interventions in 2020. "Interestingly, the situation created an opportunity for the advancement of women's right as it glaringly exposed [infringements on women's rights]. It was also an opportunity that is currently changing narratives, as everyone is adding their voices towards holding the government accountable for injustices on women and girls across the country", said Obibi.
As the UN Trust Fund prepares to implement its next five-year strategic plan and build on its cumulative knowledge and experience, this is a moment to reflect on grantees' key achievements and how they helped shape the UN Trust Fund's responses during the COVID-19 crisis. For instance, a key element in the UN Trust Fund's new Strategic Plan, is the ambition that projects funded "leave no one behind" through taking an intersectional approach to ending violence against women and girls. The UN Trust Fund's Annual Report 2020, to be released at the end of June 2021, will explore in further detail the results achieved in the year.