Words from women's organizations: Supporting survivors of violence during the pandemic
'Isolation has mostly affected survivors of domestic violence who have to share their homes 24 hours a day with their violent husbands and/or in-laws.' – Veprore Shehu
Date: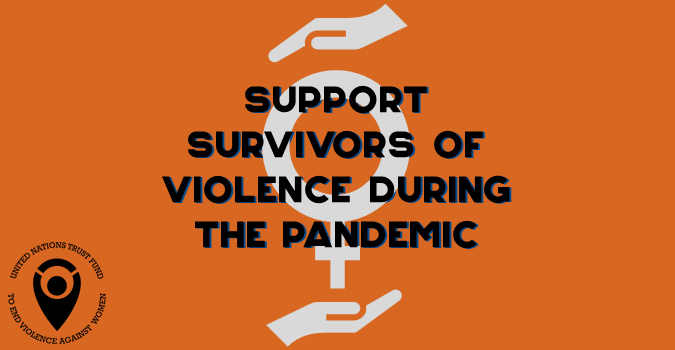 With at least 4 billion people around the world isolated in their homes to slow the spread of COVID-19, a dangerous shadow pandemic of violence against women is intensifying. UN Trust Fund to End Violence against Women (UN Trust Fund) grantees, on the frontline of the response to the needs of women and girl survivors during this crisis, are sharing information on the impacts from the pandemic on beneficiaries and on their institutional capacities to provide necessary support.
Veprore Shehu, Executive Director of NGO Medica Kosova, a UN Trust Fund grantee in Kosovo*, said:
"[The] pandemic is affecting everyone […], but our concern remains with survivors of domestic violence who have to isolate with abusers and with limited possibilities for receiving direct support from organizations or other service providers."
As soon as local governments in Kosovo* imposed emergency measures, Medica Kosova took proactive action. Staff, who started working from home, began liaising with women survivors of violence and local services. Shehu said:
"Medica Kosova psychologists and lawyers have informed them prior to this situation to call them directly or the police in case of experiencing violence."
The organization is also taking steps to enhance communication and awareness of their primary beneficiaries. Shehu explained:
"Five team members (a psychologist, lawyer, psychosocial counsellor, project assistant and executive director) make phone calls to survivors asking about their well-being, challenges they face during this period of isolation and their daily activities with their close families."
"As our grantees – who are ending violence against women practitioners - are facing new challenges reaching vulnerable communities of beneficiaries already at risk of violence - we must do our best to support them. One way to do that is by allowing them to redirect funds towards alternative relief and response measures", said Fiona Dalmier, Portfolio Manager at the UN Trust Fund about measures taken by the Fund to support grantees.
However, challenges remain for the organization in reaching all survivors and beneficiaries. Shehu said that Kosovo's* shelters reported additional protection measures such as an SOS line connected to the police, but that the police are currently responding only in cases of physical violence. She added:
"Survivors therefore remain under continuous stress and psychological violence with fear of being threatened and abandoned by everyone."
Medica Kosova raises awareness among women's organizations of the Istanbul Convention[1], which guided preparation of the Kosovo* National Strategy against Domestic Violence. Medica Kosova works to increase efforts by national and local government bodies to implement the National Strategy. It also works with women's organizations in relatively small municipalities, focusing on women in under-served communities, including Roma women.
*Under UN SCR 1244 (1999)
[1]https://www.unwomen.org/en/news/stories/2013/3/the-istanbul-convention-strengthening-the-response-to-ending-violence-against-women