UN Trust Fund launches its Annual Report 2017
The Foreword by Aldijana Sisic, Chief of the UN Trust Fund
Date: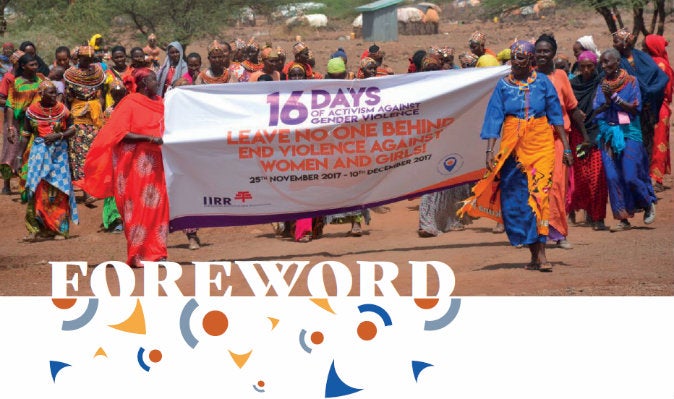 Every year is dubbed "a year like no other", but 2017 truly was more dramatic than many other years in recent memory. It was a year we won't soon forget. From world leaders who set out their visions for a new national populism, to a renewed threat of nuclear war, to terrible tragedies like the fire in London's 24-storey Grenfell Tower, to mass shootings in Las Vegas and Texas, to terrorist attacks in popular tourist destinations like Barcelona (Spain) London and Manchester (United Kingdom), New York (USA) and Stockholm (Sweden) – not to mention a total solar eclipse. These were just some of the key events that hit the headlines. And then, of course, there was the Harvey Weinstein scandal.
Revelations first reported in the New York Times and The New Yorker were followed by the viral hashtag #MeToo. Women in the Hollywood film industry, and indeed the world over, were inspired to speak about their personal stories of abuse, which subsequently led to the downfall of many powerful men in entertainment, business, politics and the news media across the world.
But what did we really learn from this story?
We heard that women had been abused, harassed and sexually violated by men; that they suffered in silence for fear of losing or not getting jobs; that they could not speak out and that, if they did, they were not believed. We read how many lost promising careers because they said "No!" to sexual advances and how men in predominantly men-led businesses often facilitated perpetrators' advances through inappropriate actions, inaction or by covering up complaints. We heard that the support was simply not there for those women who dared to complain. And we heard that everyone had known about this for years but did nothing. So actually… we did not learn much that was new at all because this is an absolutely accurate story of violence against women and girls everywhere.
As brave and unique as each story about the awful pain of every survivor is, the #MeToo movement is, sadly, not the first movement to expose the scope of violence committed against women and girls. Movements like this exist in all parts of the world. Under different, locally relevant and recognizable names, survivors have been coming together, telling their stories and calling for an end to this global pandemic for a long, long time. But, just like in Hollywood, most of the time everybody already knows and does nothing.
On the other hand, the right of all women and girls to live a life free of violence is enshrined in Article 3 of the Universal Declaration of Human Rights (UDHR), which sets out every individual's right "to life, liberty and security of person". This right is explicitly guaranteed in numerous international treaties, conventions and laws. It has been reiterated in General Recommendation No.35 of the Committee on the Elimination of Discrimination against Women on gender-based violence against women; in the UN General Assembly Resolution on Child, Early and Forced Marriage; in UN Security Council Resolution 1325 on Women, Peace and Security; in the Convention on the Rights of the Child; in the Convention on Persons with Disabilities, and many more. So why is there so much silence?
The immediate impact of the #MeToo movement has inspired us all greatly and we are optimistic that it will achieve even greater change. The long-term test for all of us is not whether we will bring down a few powerful men, but whether we ensure we do not let down and leave behind millions of women and girls around the world. We now have an opportunity to build on the courage of survivors in the wake of #MeToo and demonstrate the systemic nature of violence against women and girls; a chance to build on what started as a national conversation and highlight that this is a pandemic of global proportions that is deeply rooted in gender inequality and inequity.
Activists in movements around the world, like our grantees presented in this report, are engaged in their own national conversations and they know how to respond. They know very well that to end violence against women we must go further than the conviction of an individual perpetrator. As an immediate first response, we must provide multisectoral support to all survivors and, in the longer term, we must address the roots of violence against women and girls. We must change structures and systems of inequality and inequity that allow men around the world to undermine, harass, abuse and violate women and their rights.
This Annual Report is testimony to the changes achieved by our grantees in 2017. It aims to highlight the results of some of those activists and movements who worked tirelessly to ensure the realization of the rights of women and girls around the world guaranteed by long-standing commitments and promises. It highlights the hard work of those who do not stay silent once they know the story.
Click here to read the UN Trust Fund to End Violence against Women Annual Report 2017: Generating Sustainability.
Aldijana Sisic
Chief, UN Trust Fund to End Violence against Women