The Philippines: Advancing partnerships to ensure safe public spaces for women and girls
'Women should not endure or suffer [from sexual harassment]. Let's stand up for ourselves.' Riza Watson Teope, village leader in Marikina city.
Date:
In 2010, the UN Trust Fund to End Violence against Women (UN Trust Fund) provided initial funding to the Gender Inclusive Cities Programme (implemented in Petrozavodsk, Russia; Dar es Salaam, Tanzania; Delhi, India; and Rosario, Argentina) helping to implement a women's "right to the city" approach. The project successfully enabled women to advocate for their own safety, build partnerships and empower themselves. Lessons learned from this programme alongside a global review on women's safety and 45+ years of experience of grassroots mobilization on women's safety at the local level helped to inform the development of UN Women's Global Initiative Safe Cities and Safe Public Spaces for Women and Girls, which celebrates 10 years in 2021. Quezon is a participating city in this Global Initiative.
"Safe Cities and Safe Public Spaces for Women and Girls integrated programmes across the world, including in the Philippines benefit from the gathering of local data, drawing on the know-how and expertise of grassroots women, women's rights organizations and local governments who work together to respond to the universal problem of sexual harassment against women and girls in public spaces, supported by a diversified funding base", shared Laura Capobianco, Senior Advisor, Safe Public Spaces, UN Women.
With the support of the UN Trust Fund, two Filipino organizations, the Solidarity of Oppressed Filipino People (SOFP) and the Institute of Politics and Governance (IPG) are collaborating to further advance the Safe City Free of Violence against Women and Girls' initiatives in the country by extending prevention measures to other civil society organizations and the wider community through community mobilization and awareness activities.
In 2019, the Safe Spaces Act (R.A. No. 11313 or Bawal Bastos Law), which expanded the scope of the Anti-Sexual Harassment Act of 1995, was signed into law. The legislation was deemed a "game changer", according to Senator Risa Hontiveros, Senate Committee on Women, Children, Family Relations and Gender Equality Chairperson in the Philippines.[1] In March 2021, while supporting the event co-organized by SOFP and the IPG, Senator Hontiveros shared:
"Through [the Bawal Bastos] Law, we make it clear to every Filipino that any form of sexual harassment — from catcalling women in the streets to sending homophobic comments online — is punishable. We must keep repeating that perpetrators cannot just get away with their crime and must be held accountable."
Due to the COVID-19 pandemic, both organizations have shifted to online advocacy to not only continue their work but also to respond to urgent needs on the ground. IPG and SOFP continued to co-organize an online event to engage youth leaders in supporting the R.A. and share lessons, gaps and opportunities garnered throughout both projects' first year of implementation. While collaborating, IPG and SOFP realize that they and their constituencies face similar issues despite different settings. They have since benefitted from working more closely and relied on each other as a resource for both online and face-to-face events, cross-posting events and messages for greater reach and championing each other's work. Arline Santos, IPG's Executive Director shared: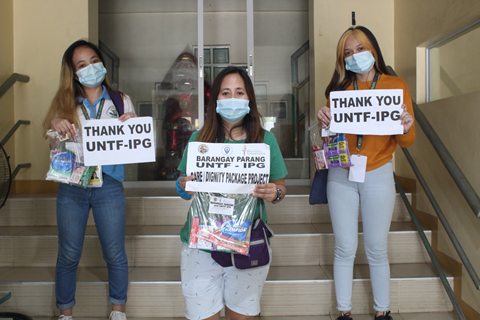 "Since we started our work on the Safe Cities project in 2017, […] our partnership with SOFP (DAMPA) and other community-based women, youth, and LBTQ organizations has been invaluable in advancing our advocacy to change hearts and minds of policymakers, communities, and the public in general in ending violence against women and girls."
The collaboration of IPG and SOFP with other key safe city partners, and their quick adaptations to the global pandemic demonstrate their unwavering commitment to end violence against women and girls.
[1] Philippine Commission on Women. "Safe Spaces Act IRR Signed." Accessed: 30 August 2021. https://pcw.gov.ph/safe-spaces-act-irr-signed/