Case Study: UN Trust Fund support helps organizations raise capacity and funds
Date:
"With the support and help of the UN Trust Fund in terms of results-based project management we expect to achieve our results with even more beneficiaries than expected."  UN Trust Fund grantee, 2016
A key aim of the UN Trust Fund is to build the capacity of grantee organizations to sustain their achievements beyond the duration of the project.
In an annual partner survey comprised of 20 questions, we asked grantees to tell us how we are performing in that endeavour.[1] We asked about the support provided by the UN Trust Fund team, the added value of its grants compared to other donors, and ideas for improvements.
97 per cent said they would recommend the UN Trust Fund as a funder to others working in the field, stressing the value of the programmatic advice and the monitoring and evaluation training provided.
82 per cent said UN Trust Fund support would enable them to mobilize further funding at the end of the grant because of the increased visibility and publicity provided by UN Trust Fund support.
"UN Trust Fund enabled my organization to contribute significantly in addressing violence against marginalized and often ignored groups of women. With this project my organization is now known as a player in ending violence against women and with this visibility and… groundwork it should be possible to continue with the effort."  UN Trust Fund grantee, 2016
The survey revealed that the main areas of added value of a UN Trust Fund grant were increased successes supported by evidence, improved access to funding, and increased capacity for results-based management. Small grassroots organizations appreciated the increased recognition by other donors that comes with being a UN Trust Fund grantee.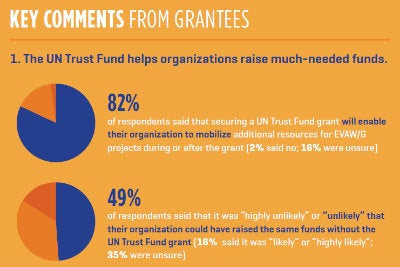 UN Trust Fund grantees shared examples of their expanded efforts to prevent and end violence against women with additional funding following the documented success of their UN Trust Fund-supported project.
In Nepal, the Story Kitchen, which implements the "SAHAS (Courage) for Justice" project to enable women survivors of conflict-related violence to share their stories, was awarded a grant to expand a similar project by a new initiative agreed between the Government of Nepal and three European government funding agencies.
A project run by the recently established women's organization Equality in China won extra funding from the Ford Foundation, allowing it to expand. The project works to empower women and girl survivors of violence from marginalized and underserved communities - such as lesbian, bisexual and transgender women and women living with HIV - to advocate for their rights and access legal assistance and social services.
In Pakistan, the Sindh Community Foundation, which uses human rights education and advocacy to reduce child and forced marriage, leveraged UN Trust Fund support to win USAID funding.
 "The organization has been able to utilize the UN Trust Fund grant to scale up our work and to mobilize other resources from the Australian Government to reach more women."  UN Trust Fund grantee, 2016
See the summary of the 2016 survey of grantees here.
[1] Answers are provided anonymously online. In 2016, 85 organizations representing a good cross-section of grantees completed the survey.