Commitment to End Violence against Refugee Women and Girls
Date: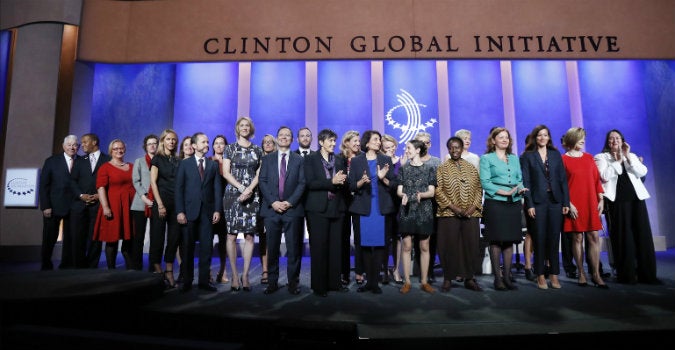 On 20 September 2016, at the 12th and final Clinton Global Initiative (CGI) Annual Meeting, the UN Trust Fund to End Violence against Women (UN Trust Fund) joined No Ceilings: The Full Participation Project, an initiative of the Clinton Foundation, Vital Voices Global Partnership, WEConnect International and a coalition of more than 30 core partners from the public, private and multilateral sectors, to announce a series of Commitments to Action aiming to advance the gender equality targets of the UN Sustainable Development Goals.[1] The collective commitments will impact over 900,000 individuals in more than 60 countries through:
advancing women's economic participation;
addressing violence against girls and women; and
promoting women's leadership.
Recognizing the growing number of displaced persons worldwide and the specific refugee crisis driven by the protracted conflicts in Syria and elsewhere, the UN Trust Fund has pledged at least $1 million in grant-making for projects to address specifically violence against women and girls who are refugees or internally displaced.
This commitment builds on the ongoing work of the UN Trust Fund in the context of conflict and post-conflict situations, and with a new focus on providing multi-sector services for female survivors in the context of humanitarian crisis. Projects implemented under this special window will be included in the UN Trust Fund's upcoming 20th cycle of funding.
"This coalition demonstrates that a broad range of partners from the private sector to the grassroots community to the UN offers us a powerful opportunity to accelerate opportunities for girls and women worldwide," said Chelsea Clinton, who announced this group of commitments on-stage during a plenary session titled, Girl, Uninterrupted: Increasing Opportunity During Adolescence. "No Ceilings data show us that achieving gender equality doesn't only change the lives and opportunities for girls and women, it changes the world. When girls and women participate fully, societies, nations, and our global community are all more secure."
[1] Building on the UN Millennium Development Goals, the Sustainable Development Goals, agreed by world leaders in 2015, are a 17-point plan to end poverty, combat climate change and fight injustice and inequality.