Final Evaluation: Safe Workplaces, Safe Communities (Cambodia)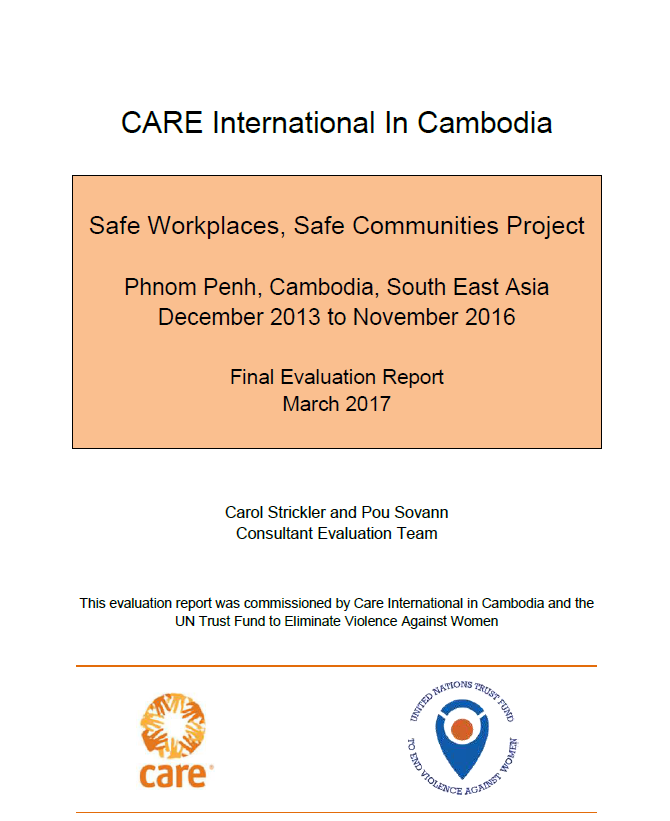 Location: Cambodia
Grantee: Care International in Cambodia
Grant period: December 2013 – November 2016
Grant amount: USD 981,494
The project "Safe Workplaces, Safe Communities" was implemented by Care International in Cambodia in six communes in four districts of Phnom Penh. The project sought to reduce sexual harassment and gender-based violence in selected workplaces and communities through a multi-level approach to addressing gender-based violence and sexual harassment.
Main findings of the evaluation:
At the end of the project, 99% of women working in hospitality and tourism and 20% of women working in garment factories who were interviewed perceived a reduced risk of sexual harassment over the project's three-year implementation period.
The project's interventions on sexual harassment promoted a women-centred empowerment approach. This focused on the rights of women and on providing duty bearers with the tools and skills to uphold their obligation to protect the right of women to be free from violence.
The project successfully developed and implemented the Sexual Harassment Workplace Policy and Behaviour Change Communication package for garment factories. Factory partners demonstrated commitment to continuing implementation of the policy through allocation of resources.
View/Download: English
Bibliographic information