#StoryOfResistance - Colombia: Centring women survivors' voices for peace and feminist movement building
Date:
"They are actors of change … and it is necessary to generate and open the spaces for them." - Linda María Cabrera Cifuentes, Director at Sisma Mujer 
In the ongoing socio-political turbulence in Colombia, women and girl survivors of sexual violence and forced displacement face many challenges to access protection measures and justice.  
In Chocó, Nariño, Bolívar and Valle del Cauca, four departments affected by armed conflict, Corporacion Sisma Mujer promotes women's political participation in building a community without violence and discrimination that provides justice for all.  
Supported by the UN Trust Fund to End Violence against Women (UN Trust Fund), Sisma Mujer is providing women and girls at high risk of violence with psycho-legal support, legal representation and advocacy to improve protection of survivors and access to justice. 
According to Linda María Cabrera Cifuentes, Director at Sisma Mujer, the increase in armed violence and the absence of a gender-sensitive perspective in the 2016 Final Peace Agreement, which ended five decades of conflict, raises concerns about many women and girls at risk of violence in these four departments. She said: "There have been situations of risk and persecution against women leaders supported by the project." 
Silenced and abandoned women 
Survivors of sexual violence as a result of conflict are experiencing administrative delays and denial of their abuses, which denies them the reparation measures to which they are entitled. Linda María described this as a state of "abandonment".  
In response, Sisma Mujer has facilitated a number of activities to meet the needs of women survivors of violence, including: 
comprehensive specialist services, such as psycho-legal counselling as well as individual and collective psycho-social support; 
workshops for women human rights defenders and women leaders on human rights referral mechanisms; and  
advocacy with government officials and justice actors for adequate prosecution of sexual violence committed during the armed conflict. 
Survivors' voices in feminist movement building: Strengthening alliances  
Operating in a challenging context, Sisma Mujer recognizes clear challenges as a feminist organization, including: 
the invisibility of a feminist agenda during national discussions on human rights;  
the impunity for violence against women and girls due to a culture of silence, discriminatory gender norms and an absence of institutional support; and  
the denial of equal opportunities for women to participate politically.  
 "Power structures restrict the capacity for action of feminist agendas," said Linda María.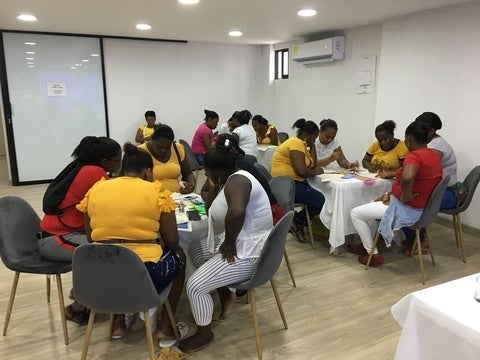 However, to make changes in this environment, Sisma Mujer forms alliances with local feminist organizations to collectively act on a shared agenda. It has also built the capacity of these local organizations to strengthen the feminist commitment as a strategy to respond to the lack of institutional and structural support. Most importantly, this strategy is centred on the voices of women survivors of violence. Linda María added: 
"[Women survivors] also feel they are actors of change, with the capacity and desire to intervene and participate in decision-making scenarios, and it is necessary to work to generate and open these spaces for them." 
Indeed, the voices of women survivors, many supported and accompanied by Sisma Mujer, have advanced the advocacy efforts to open a national (macro) case of sexual violence in the context of Colombia's internal armed conflict presented before the Jurisdicción Especial para la Paz (Special Jurisdiction for Peace).  
In turbulent times, it is crucial that the voices and equal participation of women in decision-making promote feminist agendas and improve women's access to justice.  
#StoryOfResistance is an editorial series during the 16 Days of Activism against Gender-based Violence 2022 of the UN Trust Fund. The series features the important, lifeline work of women's rights organizations in ending violence against women and girls, in the context of overlapping crises and rising pushbacks from anti-rights and anti-feminist movements.