Final Evaluation: Improving the Response Mechanisms to Sexual and Gender-based Violence against Syrian Refugee Women and Girls in Iraqi Kurdistan (Iraq)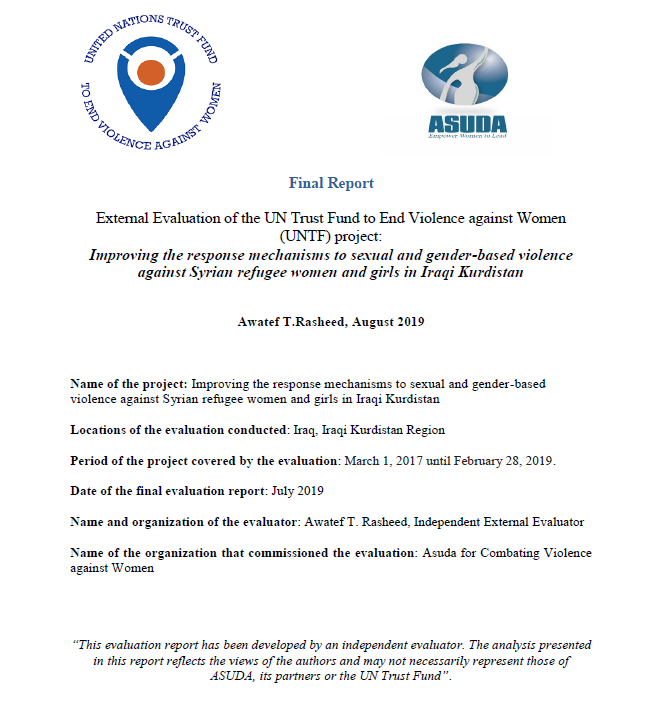 Authors/Editors: Awatef T. Rasheed
Location: Iraq, Iraqi Kurdistan Region
Grantee: Asuda for Combating Violence against Women
Grant Period: March 2017 – February 2019
Grant Amount: $255,000.00
Asuda for Combating Violence against Women, in partnership with Ceasefire Center for Civilian Rights, sought to bring together all the actors concerned about violence against women in order to provide adequate responses and services to Syrian refugee women and girls who have experienced sexual and gender-based violence.
Main findings of the evaluation:
Asuda's innovative strategy was successful and could be used as a model for other projects in a similar cultural and humanitarian context.

Asuda produced and disseminated two reports on sexual and gender-based violence against Syrian refugees to 500 international NGOs, stakeholders and other actors in the humanitarian community in Kurdistan region, where data collection on this issue had previously been difficult.

The project reached 1,298 beneficiaries.
View/Download: English
Bibliographic information