Final Evaluation: Information and Sensitization against the Practices of FGM/C and Child Marriage in 30 Villages in Kayes Region (Mali)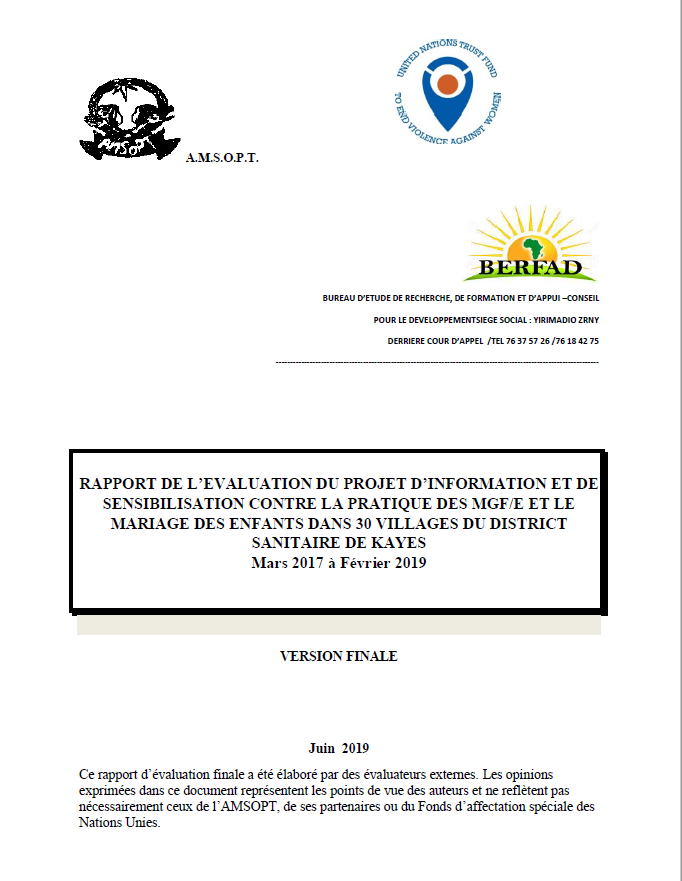 Location: Mali
Grantee: Association Malienne pour le Suivi et l'Orientation des Pratiques Traditionnelles Néfastes (AMSOPT)
Grant period: March 2017 - February 2019
Grant amount: $246,188
Publication year: 2019
The project "Information and Sensitization against the Practices of FGM/C and Child Marriage in 30 Villages in Kayes Region", run by the Malian Association for Monitoring and Orientation of Traditional Practices (AMSOPT), aimed to:
use outreach and community-based communication support to change social norms linked to FGM/C and early marriage;

enhance access to adequate medical and psychosocial services for survivors of violence;

adopt activities such as radio broadcasts, intergenerational discussions and sports events to foster dialogue and increase knowledge of women's rights in the target communities;

strengthen the capacity of key stakeholders, including policy makers, religious leaders and teachers, to end FGM/C and early marriage; and

share relevant information on FGM/C and early marriage with children in school.
Main findings of the evaluation:
85 per cent of adolescents who participated in project activities indicated they had acquired a lot of knowledge on FGM/C and early marriage, and said they would not engage in these practices themselves.

55 per cent of survey respondents from the 30 target villages said they do not intend to subject their children to FGM/C, compared to 20 per cent before the project.

100 teachers trained on the context and consequences of FGM/C and early marriages shared this knowledge with their students.

618 survivors of FGM/C and early marriage received medical and psychological support through the project.
View online/download
Bibliographic information