Final Evaluation: Transforming communities to end sexual and gender-based violence (Solomon Islands)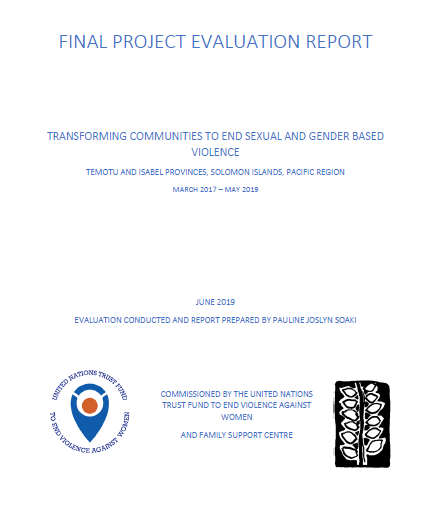 Location: Solomon Islands
Grantee: Family Support Centre
Grant Period: 1 March 2017 – 28 February 2019
Grant Amount: $119,266
From March 2017 to February 2019, the Family Support Centre in Solomon Islands implemented the project "Transforming Communities to End Sexual and Gender-based Violence" with funding from the UN Trust Fund to End Violence against Women. The project aimed to ensure that women and girls, including survivors of sexual and gender-based violence in Honiara, Temotu and Isabel, had better support and protection against sexual and gender-based violence in their communities. It worked towards establishing a counselling, paralegal support and community-based volunteer referral network.
Main findings of the evaluation:
Nearly half of women survivors interviewed for the evaluation said the project empowered them to advocate about the Family Protection Act and discuss the harmful effects of sexual and gender-based violence.

The project's engagement with external stakeholders and the government contributed to a positive provincial rollout of SAFENET (a national referral network for women and girls to access essential services) and the establishment of the national counselling framework.

Police officers improved how they handle domestic violence cases, including by engaging women volunteers in the provinces for counselling and paralegal services.

Women volunteers gained recognition for their role in the project's implementation and were consequently asked to

be part of a national consultation.
View/Download: English
Bibliographic information