Final Evaluation: AMAN - Combating Sexual Violence in the Palestinian Society (State of Palestine)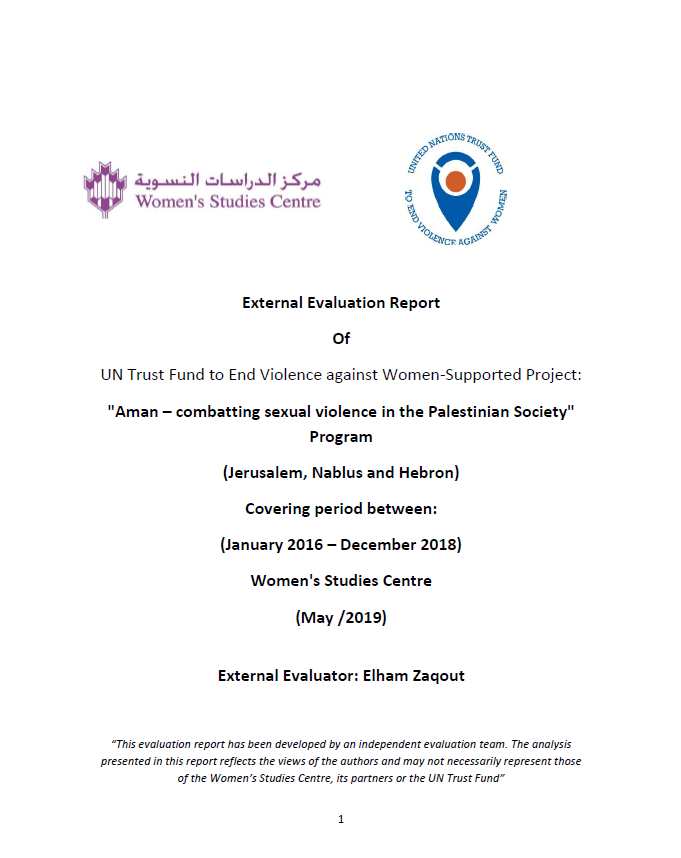 Location: State of Palestine
Grantee: Women's Studies Centre
Grant period: January 2016 – December 2018
Grant amount: $460,000
Publication year: 2019
Implemented by the Women's Studies Centre in the State of Palestine, the AMAN– Combating Sexual Violence in the Palestinian Society project sought to:
strengthen the capacity of school-aged girls, female university students and community stakeholders to identify, address and prevent sexual violence in East Jerusalem, Nablus and Hebron;

work with key stakeholders in education and social workers to empower school-aged girls and young women, including those living with disabilities, as well as their families, to identify, prevent and protect themselves from sexual violence; and

engage community groups and media to enable them to better support survivors of sexual violence.
Main findings of the evaluation:
84 per cent of school-aged children reached by the project felt more empowered to protect themselves from sexual violence.

In 67 target schools in the West Bank, including East Jerusalem, project activities were institutionalized through collaboration with the Education Ministry so they are now implemented by school counsellors in the schools.

90 per cent of university students who participated in the project could subsequently identify referral bodies (such as NGOs and police) for reporting cases of sexual violence and services for survivors.

Many of the stakeholders consulted during the evaluation considered the AMAN programme to be one of the most important extracurricular programmes adopted by the Ministry of Education as it tackled a taboo issue.
View/Download: English
View online/download
Bibliographic information