Final Evaluation: No Tolerance for Gender-based Violence (Serbia)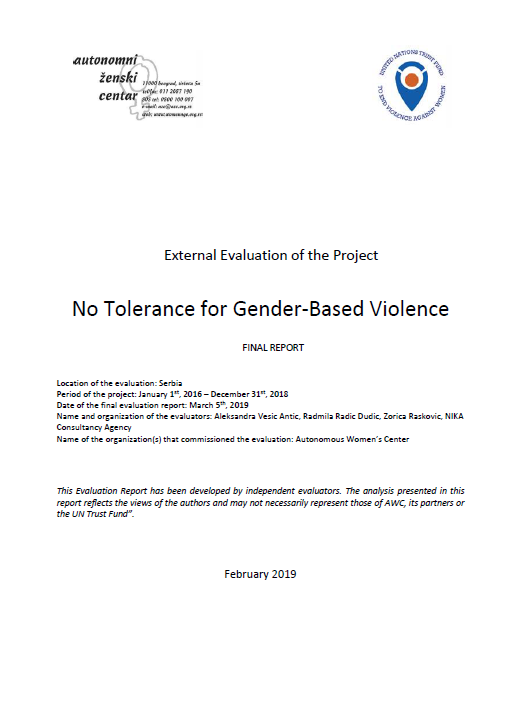 Location: Republic of Serbia
Grantee: Autonomous Women's Center
Grant period: 1 January 2016 – 31 December 2018
Grant amount: $358,600
"No Tolerance for Gender-based Violence", run by the Autonomous Women's Center with funding from the UN Trust Fund to End Violence against Women, aimed to raise the capacity of young people and teachers to understand and address violence against women. It tackled gender-based violence (GBV) in 30 high schools in 15 cities and 8 university faculties in Serbia. It disseminated information, changed individual attitudes, raised awareness about GBV, and facilitated advocacy activities. It also increased youth understanding of GBV, positively changed the lives of targeted women and girls, and helped change boys' attitudes.
Main findings of the evaluation:
The project designed a comprehensive feminist and human rights-based approach to preventing and reacting to GBV among youth and within the educational system, an approach that can be used in other similar initiatives.
The project resulted in promising practices for organizations applying a feminist approach to working with boys, such as inclusive workshops for girls and boys.
Social networks/online applications for educating youth, especially the online "I can say no" campaign, provided greater visibility for GBV by attracting over 48,000 website visitors (https://www.youtube.com/watch?v=YkNrBHTHpr0).
The project reached 9,000 women and girls.
View/Download: English
Bibliographic information