Final Evaluation: STOP–CARE–CURE: A Stronger Institutional Response to Gender-based Violence in the Autonomous Province of Vojvodina (Serbia)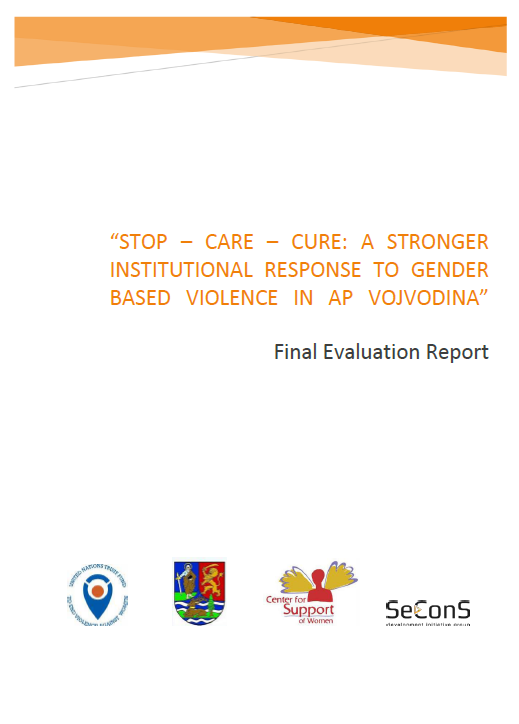 Location: Republic of Serbia
Grantee: Provincial Secretariat for Health, Social Policy and Demography
Grant period: 18 January 2016 – 17 January 2019
Grant amount: $533,060
Summary: The Provincial Secretariat for Health, Social Policy and Demography launched "STOP–CARE–CURE: A Stronger Institutional Response to Gender-based Violence in the Autonomous Province of Vojvodina" with four objectives: 1) improve practices of service providers to strengthen responses to sexual and gender-based violence (SGBV); 2) establish pilot centres for survivors and improve health services for women and girls; 3) improve multi-sectoral cooperation to enhance responses to SGBV; and 4) involve women and girls, the general public and professionals in the protection system in Vojvodina. The final evaluation found that the overall goal – to better protect women against SGBV – was achieved, and that the pilot centres were established.
Main findings of the evaluation:
Over 1,200 employees from different institutions completed the training on multi-sectoral cooperation, more than three times the target number.

Centres for victims of SGBV were established. Of greatest value was their provision of psychosocial support.

The project implemented for the first time the Special Protocol for Protection and Treatment of Women Exposed to Violence in several public healthcare institutions.

The project strengthened institutional response to SGBV in Vojvodina, improved gender equality, and empowered women to recognize and report violence.
Bibliographic information