Final Evaluation: Integration of gender and gender-based violence subject into educational curriculum in the frames of National 211-215 Strategic Plan (Armenia)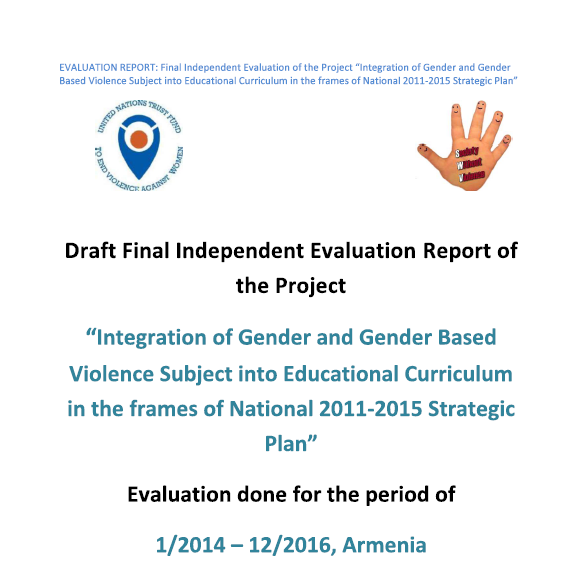 Location: Armenia
Grantee: Society Without Violence
Grant Period: 1 January 2014 – 31 December 2016
Grant Amount: $149,998
Publication year: 2017
Society Without Violence's three-year initiative, "Integration of Gender and Gender-based Violence Subject into Educational Curriculum in the Frames of National 2011-2015 Strategic Plan", targeted girls and boys aged 13 to 18. Using activities and tools, the initiative aimed to increase understanding of and prevent gender-based violence.
Main findings of the evaluation:
The project led to many positive and sustainable impacts by encouraging discussion and debate amongst students.
Social sciences teachers were trained on gender issues, and a gender dimension was incorporated into the curriculum to ensure the project's sustainability.
The project's teaching of issues related to gender and gender-based violence was effective and efficient.
Collaboration with the Ministry of Education and Science ensured the project's smooth implementation and sustainability.
View/Download: English
Bibliographic information