Final Evaluation: Young Girls Leaders Promote Strong Stand against Violence against Women (VAW) among their Peers (Ukraine)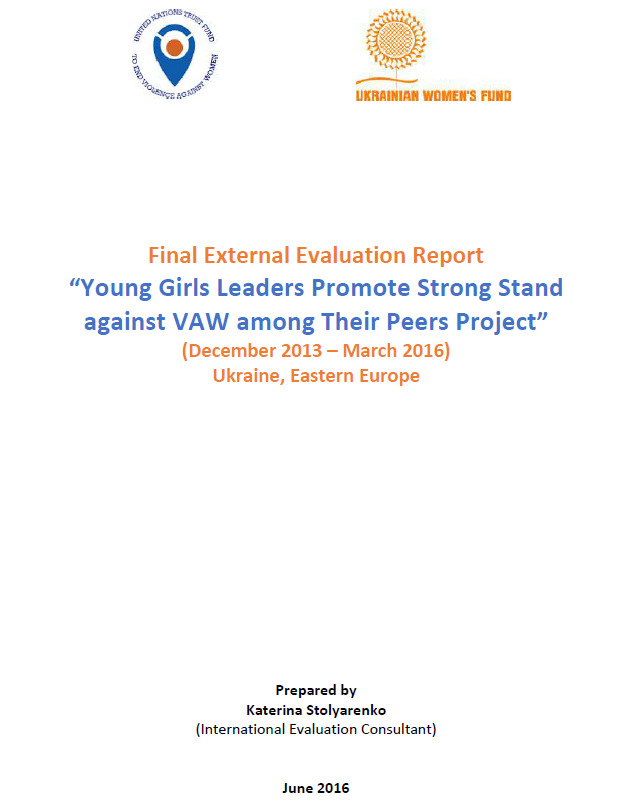 Location: Ukraine
Grantee: Ukrainian Women Fund
Grant Period: December 2013 – March 2015
Grant Amount: USD 199,260
The Ukrainian Women Fund created the initiative "Young Girls Leaders Promote Strong Stand against VAW among their Peers" to address non-partner violence in the family, violence against girls, and violence in the community. The project worked to improve preventative and response services. The Ukrainian Women Fund implemented the project with nine partners in nine communities in Ukraine in order to:
empower girl leaders and their NGOs;
improve the scope and quality of preventive and response services in governmental institutions and social care centres; and
change behaviour.
Main findings of the evaluation:
Girl leaders and their NGOs reached 5,667 girls and boys – 40% more than projected.
The most efficient ways to promote gender equality and zero tolerance of violence against women and girls were found to be interactive theatre, art therapy, volunteering and awareness raising campaigns – practices that can be replicated elsewhere in similar interventions.
Eight of the nine partners are continuing the work, ensuring that the project's achievements are sustainable. Local partnerships with counterparts in educational institutions are also enhancing the project's implementation and sustainability.
View/Download: English
Bibliographic information