Final Evaluation: Women's Empowerment in Afghanistan and Tajikistan for Displaced Persons through Legal Aid and Training to Combat Violence against Women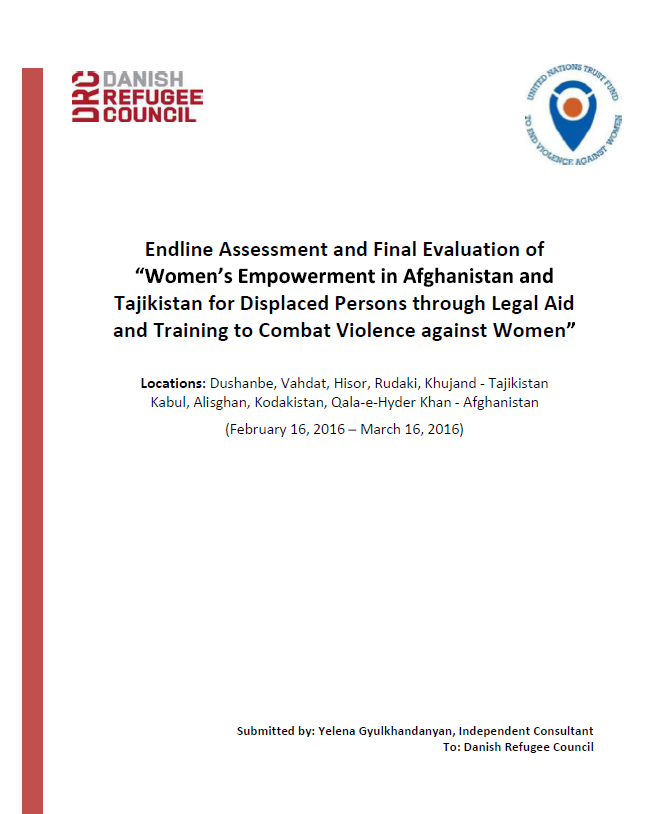 Location: Tajikistan and Afghanistan
Grantee: Danish Refugee Council
Grant Period: January 12th, 2013 – November 3rd, 2015
Grant Amount: USD 737,587
Danish Refugee Council implemented the project "Women's Empowerment in Afghanistan and Tajikistan for Displaced Persons through Legal Aid and Training to Combat Violence against Women" in order to reduce impunity for sexual and gender-based violence against women and girls in displacement. The initiative aimed to empower women living in displacement as a result of access to social and legal services for survivors as well as raising awareness on women's rights and sexual and gender-based violence in target locations in Afghanistan and Tajikistan.
Main findings of the evaluation:
In Afghanistan, awareness raising sessions were successful at increasing awareness of women's rights by 48.3% from the baseline, and awareness of SGBV by 42.1%.

The project successfully reached out and improved access to legal aid and protection for displaced women and girls affected by or at-risk of SGBV.

The establishment of legal aid clinics was efficient in empowering women to seek help with legal problems and SGBV.

The increase in knowledge and awareness of SGBV contribute to the sustainability of project results.
View/Download: English
Bibliographic information