Final Evaluation: "Anti-Harassment Committee and Violence Prevention System in Export-Oriented Garment factories" (India and Bangladesh)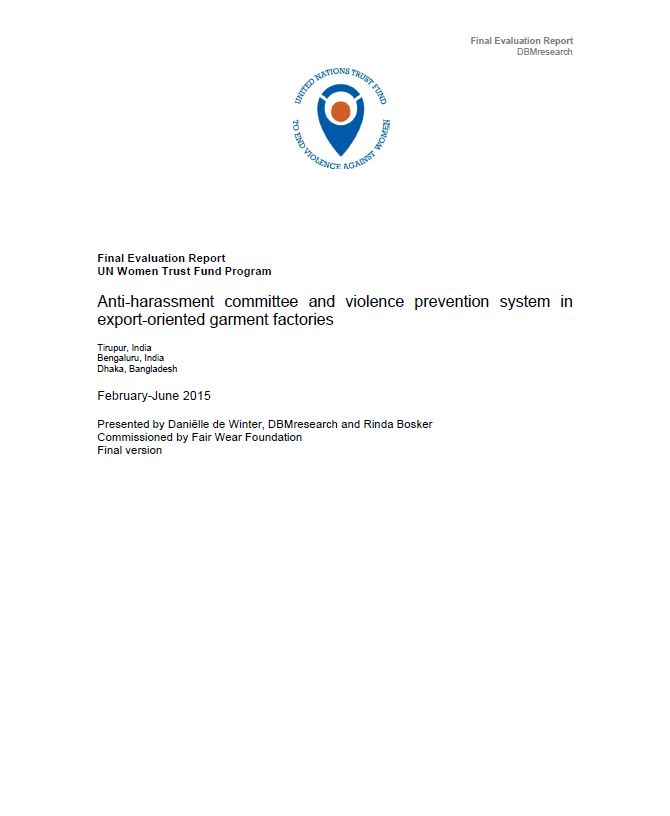 Grantee: Fair Wear Foundation
Countries: India and Bangladesh
Period: October 2011 to March 2015
Grant amount: $471,000
Publication description. The goal was for women and girls working in targeted export-oriented garment factories in south India and Bangladesh to work in an environment that has less verbal, psychological and physical abuse and less sexual harassment.
Main findings of the evaluation:
responded to the needs of women and girls working in the export-oriented garment industry in three cities in India and Bangladesh;
raised awareness among the workforce of the factories about harassment and violence against women;
collaborated with different players along the supply chain;
established functional supportive mechanisms in institutional frameworks that have been an effective approach to dealing with violence and harassment in the garment industry; and
resulted in women workers, especially those elected as Anti-Harassment Committee members, experiencing more friendly working environments in factories that were part of the project, in part because of the Anti-Harassment Committee and Anti-Harassment Act and the support given by other organizations.
Bibliographic information