Final Evaluation: "Engaging Men to Strengthen the Implementation of Gender-Based Violence Laws and Policies and Promote Gender Equality in Kenya, Rwanda and Sierra Leone"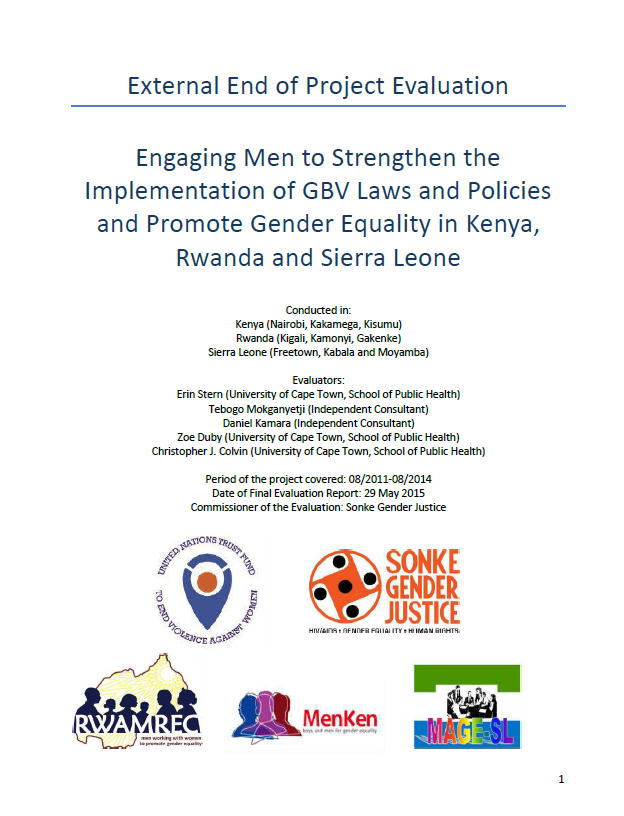 Grantee: Sonke Gender Justice
Countries: Kenya, Rwanda and Sierra Leone
Period: August 2011 to August 2014
Grant amount: $996,000
Publication descriptionSonke implemented regional activities such as policy scans, discussions and lobbying regional economic committees, as well as partnering with three MenEngage country partner organizations – in Rwanda (RWAMREC), Kenya (MENKEN), and Sierra Leone (MAGE-SL). These sub-grants were to support implementation of project activities such as institutional strengthening and capacity building for governments and civil society in developing and implementing gender-based violence prevention policies and laws focusing on engaging men and boys for gender equality.
Main findings of the evaluation:
- implementing partners had strong ties and relationships with their key stakeholders;
- women and men felt more empowered to report gender-based violence and to work against practices that encourage or perpetuate such violence;
- men in the target communities expressed appreciation for the project and its ability to create platforms for dialogue over issues that cause conflicts in households; and
- men who previously physically and/or sexually abused their partners had the opportunity to reconsider their behaviour – some men had not realized that their abuse was illegal and had a range of negative health and human rights implications.
Bibliographic information