Strengthening Implementation of a Functional Medico-Legal Framework to Scale-Up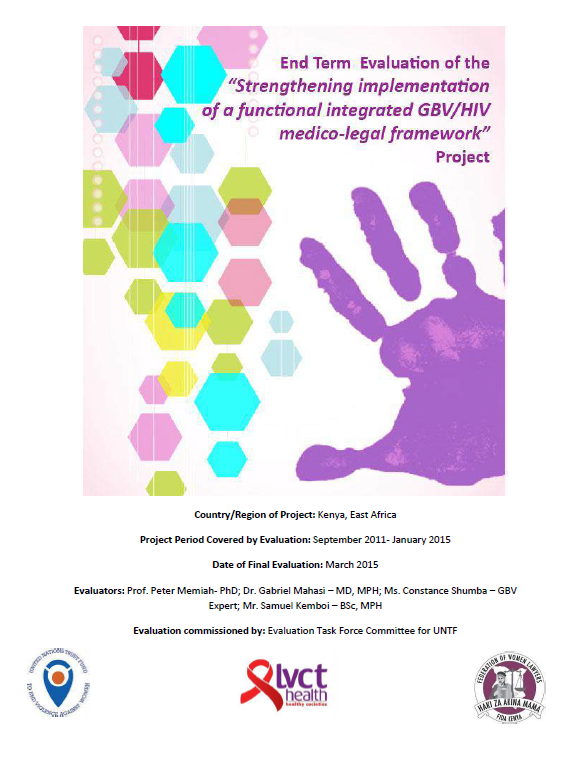 Grantee: Liverpool Care and Treatment (LVCT Health)
Country: Kenya
Period: September 2011 to August 2014
Grant amount: $966,862
Publication description. Its main objectives included: strengthening CSO coordination; providing technical support to the development of national standard operating procedures for cross-sectoral referral; and strengthening sector specific responses for gender-based violence/HIV integration.
The final evaluation found that the project had a positive impact on the response to sexual and gender-based violence in Kenya through:
the design and launch of the monitoring and evaluation framework for national level reporting;
the revision of national training curricula for service providers;
development of the multi-sectoral standard operating procedures on prevention of and response to sexual violence;
contributing to legislation and policy frameworks;
CSO coordination through the National Gender and Equality Commission gender-based violence working group and the Africa Unite Kenya initiatives; and
capacity building of service providers.
Main findings of the evaluation:
survivors of gender-based violence have comparatively better access to services provided by various institutions supported under the project;
knowledge generation was enhanced through a web portal developed under the project;
regionally, the project contributed to initiatives geared towards the development of a multi-sectoral, gender-based violence curricula for East Africa.
Bibliographic information