Final Evaluation: "Promoting Gender Equality and Improving Access to Justice for Female Survivors and Victims of Gender‐Based Violence under the Khmer Rouge Regime" (Cambodia)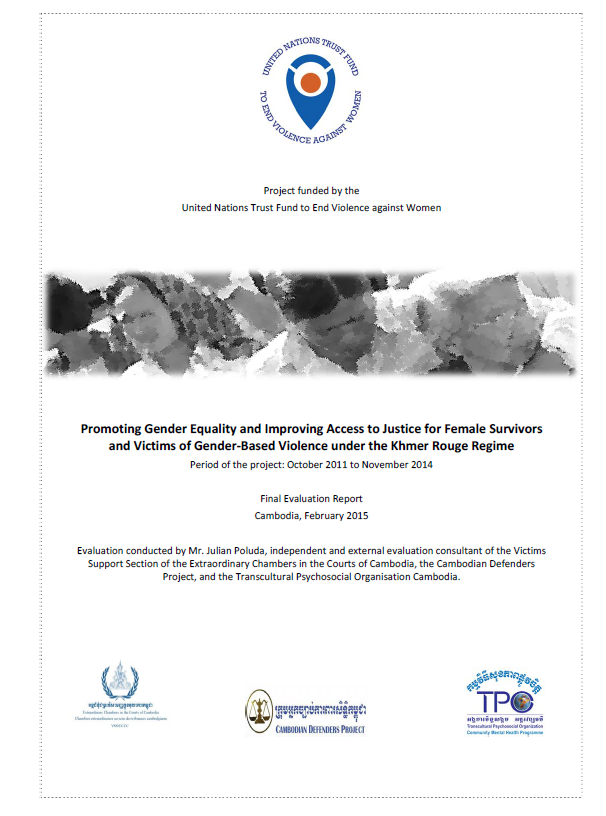 Grantee: Victims Support Section of the Extraordinary Chambers in the Courts of Cambodia (ECCC)
Countries: Cambodia
Period: October 2011 to November 2014
Grant amount: $628,501
Publication description: The goal was to enable female survivors of the Khmer Rouge regime, in particular survivors of sexual and gender‐based violence, to fully enjoy and exercise their transitional justice rights, namely the right to truth, criminal justice, rehabilitation and non-recurrence of the crimes.
Main findings of the evaluation:
the project significantly contributed to the ambitious goal of transitional justice through engaging approximately 1,700 Cambodians in community‐based, truth-telling initiatives on gender-based violence under the Khmer Rouge regime through a forum theatre and community dialogue approach;
the project engaged around 1,200 civil parties and diverse national and international stakeholders in three women's forums that offered space for truth‐telling and public awareness raising on gender-based violence; and
the Cambodia Defenders Project, in collaboration with the Transcultural Psychosocial Organization, produced and disseminated 29 call‐in radio shows on gender-based violence, experiences of women and men, the progress of the legal proceedings by the Extraordinary Chambers in the Courts of Cambodia, and the implications for gender issues in Cambodia today. The approach reached a wide audience in more rural areas of Cambodia.
Bibliographic information