Final Evaluation: Gender Justice to End Violence against Women and Girls (State of Palestine)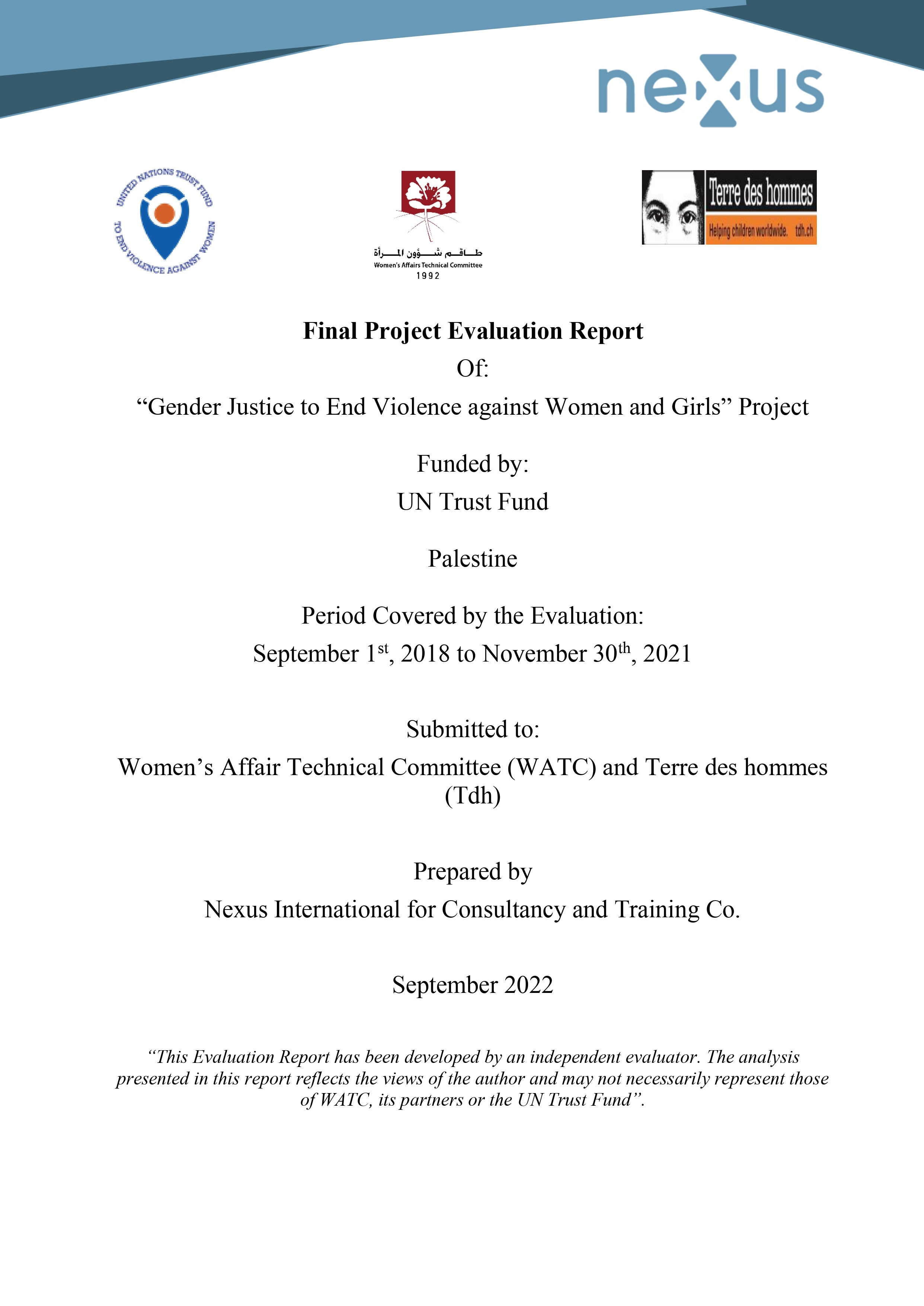 Location: State of Palestine
Grantee: Women's Affairs Technical Committee
Grant period: 1 September 2018 – 31 August 2021
Grant amount: USD 450,692
Authors/editors: Nexus International for Consultancy and Training Co.
Publication year: 2022
Women's Affairs Technical Committee implemented the three-year project "Gender Justice to End Violence against Women and Girls" across four governorates in the West Bank of the State of Palestine with the support of the UN Trust Fund to End Violence against Women from 2018 to 2021. The project aimed to:
improve access to formal and informal justice systems for women and girl survivors of violence, particularly refugee and internally displaced women and girls, by adopting an holistic, multisectoral approach involving capacity development, community mobilization, sensitization and advocacy;
enhance safety response mechanisms by strengthening the capacities of key judicial actors, police officers, and community-based leaders and practitioners to provide timely, gender-sensitive and rights-based support and referral services to survivors; and
empower women and girls with increased knowledge of different forms of violence, their rights, available judicial pathways, and support services.
The final evaluation revealed that key judicial actors such as judges and police officers, as well as community-based women leaders and practitioners, had enhanced capacity to detect and respond to cases of gender-based violence and provide referral services, and that advocacy efforts had successfully integrated the issue of gender-based violence, especially access to justice for refugees and internally displaced women and girls, into the National Strategy and National Referral System.
Main findings of the evaluation:
The project pushed for and significantly contributed to the inclusion of gender-based violence in the National Strategy for 2011-2019.
22 judges and clerks, 182 police officers, 60 members from the social reform committee, 42 women leaders, and 63 law students were capacitated on identifying incidents of gender-based violence and providing response and referral services to survivors.
The project supported the development of procedural guidelines for access to justice standards for cases of violence against women and girls in the West Bank's formal and community-based justice systems.
280 girls and boys were reached through 14 community outreach sessions conducted by police officers on the different forms of gender-based violence, their rights, and the responsibilities of women and men to keep the community safe.
3 awareness-raising communications videos designed by 30 children, which highlighted children's rights, early and child marriages, and the legal protection of girls from sexual harassment and abuse, were launched on social media platforms, garnering over 166,000 views.
View online/download
Bibliographic information