Fiji: Preventing and ending violence against women and girls in climate-change affected areas
Date:
The Pacific Island nation of Fiji is prone to climate change-related disasters. In recent years, cyclones of increasing intensity have repeatedly hit the country. Among other devastating consequences, the severe social and economic damage has aggravated the risks of violence against women and girls.
Funded by the UN Trust Fund to End Violence against Women (UN Trust Fund), femLINKpacific (FemLINK) is running a project in Fiji to empower rural communities to end all forms of violence against women and girls. The project uses women-led media platforms while strengthening local feminist networks to raise awareness on the root causes of violence, particularly during humanitarian emergencies.
Connecting women at risk
A crucial role of FemLINK's project is to connect rural women through its Women's Weather Watch campaign. Using community media and radio, it provides real-time weather monitoring and disaster management communications, warnings, and updates to those generally overlooked – women living in hard-to-reach areas; women living with disabilities; and lesbian, bisexual, transgender women and intersex persons.
Through these connections, FemLINK's diverse networks also barter among themselves and with other communities through the online Barter for Better Fiji project. This is inspired by the traditional practice of Indigenous Fijian communities and enables women who have survived or are at risk of violence to exchange essential items and emergency services.
Amplifying women's voices
In climate change-affected areas, amplifying the voices of the most vulnerable women is key to raising awareness about and preventing violence against women and girls.
To this end, FemLINK runs FemTALK89FM, a women-led feminist community radio network that facilitates multiracial and intersectional dialogues addressing the root causes of violence, including harmful traditions and societal norms. The network also promotes strategies to prevent violence against women and girls to thousands of listeners in urban and remote areas of the country.
Bonita Qio, a member of FemLINK's Rural Women Leaders Community Media Network, said:
"[It is] the role of the media to highlight these issues and highlight [them] in a way that does not discriminate."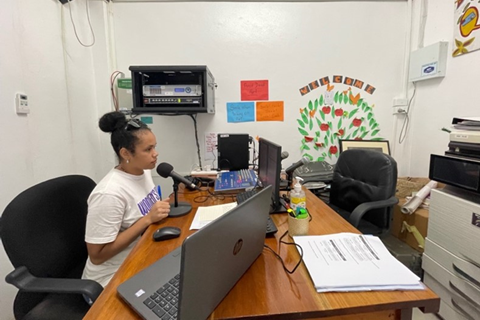 Building response mechanisms
Women and girls are the first to experience and respond to crises, yet all too often they are excluded from responses mechanisms.
Extreme climate events trigger displacements that expose Fijian women to unsafe living conditions, while material damage increases the difficulty for survivors of violence to access specialized services.
Yashmin Khan, a member of FemLink's Rural Women Leaders Community Media Network, described one of the challenges:
"When we go to the evacuation centres it should be women friendly and they should have […] a sound place for women and girls to sleep away from the men and boys."
FemLINK builds on its own women's networks and the rural feminist movement to make sure that the needs of all women and girls are considered in all circumstances. With the support of other organizations, including the Fiji Women's Crisis Centre and the Fiji Women's Rights Movement, the project used the media to raise awareness about the disastrous impact of humanitarian crisis on violence against women and girls, and ultimately informed Fiji's Ministry of Health policies on the issue.