Snapshot 2021: New training to empower and sustain grantee organizations
Date:
"Exposure at networking events, capacity building workshops and technical support received from the UN Trust Fund strengthened our internal and financial operations and exposed us to other opportunities and best practices in sexual and gender-based violence prevention and response." - Chinyere Eyoh, Founder and Executive Director of the Sexual Offences Awareness and Victims Rehabilitation (SOAR) Initiative in Nigeria, a twice-funded grantee, reflected on how its partnership with the UN Trust Fund had landed the organization grants from the EU/UN Spotlight Initiative and USAID. 
In 2021, the UN Trust Fund to End Violence against Women (UN Trust Fund) adapted capacity development approach to deliver upon strategic direction of investment in organizational resilience of grantees and accompany the Five-Point COVID-19 Response Plan focused on programmatic and operational adaptations at the times of crises. This year, a comprehensive capacity development package consisting of six modules supports organizational capacity to not only comply with donor requirements, but also to support organizational growth and development. In this package, new training components aim to help grantees work in a safe and ethical way on ending violence against women and girls (EVAW/G). The components include:  
Simplified content and structure of the Grantee Handbook, with additional guidance on EVAW/G programming. 
A new online training course page in the UN Women Training Center, to serve as a "one-stop shop" for grantees throughout their project's implementation.  
Fraud Awareness tailored training course that contributes to enhancing partners' work in mitigating risks of fraud, corruption, and other wrongdoings. This is an addition to other mandatory training courses to help grantee organizations ensure the work to end violence against women is implemented in a safe and ethical manner that also reflects zero tolerance to abuse and harassment within the organization.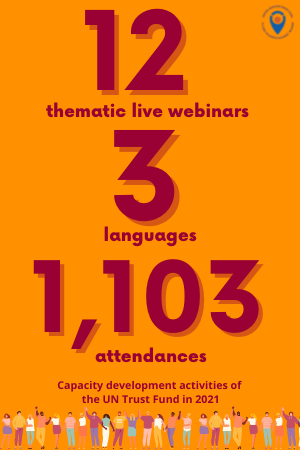 During the year, 12 thematic live webinars were delivered in English, French and Spanish, recording 1,103 attendances. Participants recognized the long-term effectiveness of the training. One said:  
"Most modules will still be very useful beyond the project implementation period. Some modules will be useful for reference purposes and experience sharing." 
The training initiatives also reflected the new Strategic Plan's vision for mutual enablement in which the UN Trust Fund offers support throughout a project's implementation while learning from grantees' feedback to adapt practices, modules content and design accordingly. Indeed, past lessons learned informed the UN Trust Fund's tailored feedback and action points to grantees.  
Additionally, participants at the training were invited to provide recommendations to the UN Trust Fund to improve the quality of support. One suggested: 
"Assignments could be provided so that the participants can work on the knowledge gained and ensure even better retention of knowledge and gain practical skills." 
Throughout the five years of the new Strategic Plan, the UN Trust Fund will continue to engage in principled, demand-driven grant-giving and capacity development, focusing on organizational resilience. 
 Read all the snapshots of 2021 in the run-up to the publication of the UN Trust Fund's 2021 annual report at the end of June 2022:
Women and girls directly benefited from UN Trust Fund-supported projects
Investment in organizational resilience during crises
You can read the UN Trust Fund's Annual Report 2021 here.