Handcrafted partnership raises funds to prevent and end violence against women and girls
"We are very proud to support Kenyan artisans as well as the UN Trust Fund to End Violence against Women" -- Bettina Metz, Executive Director, UN Women Germany
Date: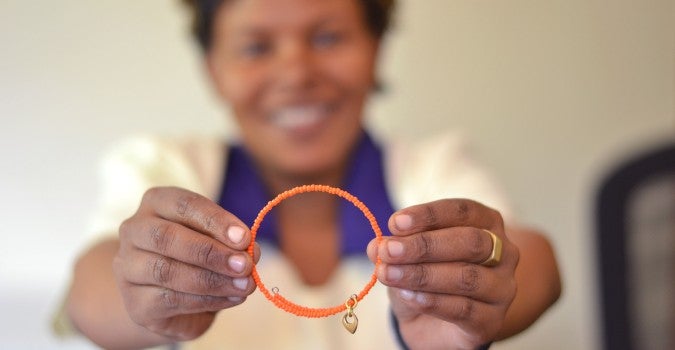 For International Women's Day, SOKO, a Kenya-based social enterprise jewellery company is launching a new necklace exclusively designed to raise funds for the UN Trust Fund to End Violence against Women (UN Trust Fund).
Since 2014, the UN Trust Fund has partnered with SOKO to raise funds and awareness to prevent and end violence against women and girls. Through the partnership, sales of a handmade bracelet by women artisans in Kenya, now joined by the necklace, have raised over USD 70,895 for the UN Trust Fund. Many of these sales are the result of activism from UN Women Germany, an independent non-governmental organization dedicated to supporting the mission of UN Women including through fundraising initiatives benefiting the UN Trust Fund. Through their efforts, UN Women Germany has sold over 10,000 sets of bracelets; contributing to the economic security of the women artisans and creating a sustainable funding source for the UN Trust Fund.
The three-way partnership between SOKO, the UN Trust Fund and UN Women Germany amplifies efforts to raise awareness of ending violence against women, economically supports women artisans in Kenya, financially supports the UN Trust Fund, and increases the visibility of the UN Trust Fund and the topic in Germany. "The SOKO and UN Trust Fund charity bracelet is a great tool to attract attention for UN Women Germany. Numerous women's magazines have supported the German Committee with free advertising pages promoting the bracelet. In 2019 the bracelet was highlighted in magazines like ELLE, Harper's Bazaar, InStyle, Burda Style and Vegan Magazine", said Bettina Metz, Executive Director of UN Women Germany about collaborating with SOKO and the UN Trust Fund.
The SOKO bracelet and necklace are produced through a cause-marketing initiative benefiting the UN Trust Fund; an example of the ways in which the private sector can contribute to creating real change in the lives of women and girls.
SOKO, a woman founded and led company, invests in local Kenyan artisans and provides fair wages. Closing the loop, 20 per cent of the net proceeds from the sale of the bracelet and necklace benefit UN Trust Fund-funded grantees. "The Soko plus UN Trust Fund bracelet contributes to the economic empowerment of an underprivileged artisan community and, at the same time, supports UN Trust Fund programmes to prevent violence against women around the world", said Joanne Calabrese, CEO of Soko, about the benefits of the collaboration.
"Every purchase helps support the financial and physical security of women and girls around the world", Joanne Calabrese added.