Case Study: Pakistan: Community action to stop violence against women
Date: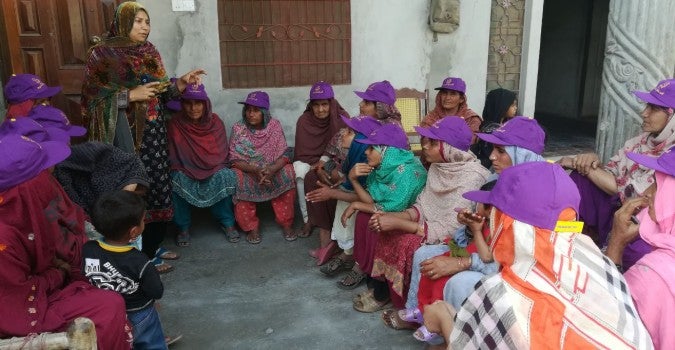 "I tell women the best gift they could give to their daughters is education and skills", says Farah Batool, a participant in a UN Trust Fund to End Violence against Women-supported project to prevent violence against women and girls in Pakistan.
Farah Batool is an activist in the Punjab region and works with a community action group created through a project by Shirkat Gah's Women's Resource Centre to raise awareness about the legal and health ramifications of early marriage, violence against women, and increase knowledge about women's rights.
The project – Drivers of Change – is run by UN Trust Fund grantee Shirkat Gah, a women's rights non-governmental organization in Pakistan. Shirkat Gah has recruited almost 600 women and men to support its violence prevention efforts in four rural districts of Pakistan ­– Hyderabad (Sindh province), Jafarabad (Balochistan), Swat (Khyber Pakhtunkhwa) and Vehari (Punjab).
Violence against women and girls is rampant in Pakistan, where 32 per cent of women report experiencing physical violence in in their lifetime, and some forms of violence continue to be prevalent such as "honour killings", domestic violence and early and forced marriage.[1]
The project works through community action groups to reach a wide range of people. It is active in markets, bazaars and community theatres, and advocates with local governments.
In Hyderabad, a woman involved in the project, Tanzeela S.*, meets members of her community to discuss the impact on families from violence against women. She says, "It is not an easy job […] If they don't come, we go to them and tell them about our programme."
Another community action group member, Khanzadi KhudaBakhsh, informs women about their rights and empowers them to speak out against violence in Jafarabad. "Domestic abuse is unacceptable and should not happen", she states confidently.
The Drivers of Change project also advocates to end early and forced marriage, a form of violence against women and girls that continues to be a reality with 21 percent of girls marrying before the age of 18 in Pakistan according to a 2018 study.[2]
In Swat valley, members in the community action groups are leading efforts to end the harmful traditional practice by holding awareness raising sessions against early marriage and promoting women's rights in marriage.
So far, 2,501 people have pledged to stand against violence and 136 women have been assisted to access services for survivors of violence. Women engaged with the project say they feel more confident and informed about their rights.
----
The fund currently supports 68 projects working to prevent and end intimate partner violence in 45 countries and territories. Donate today to support projects working around the world to prevent violence against women and girls.
*Name changed to protect her privacy.
[1]https://pakistan.unfpa.org/en/topics/gender-based-violence-6
[2]http://evaw-global-database.unwomen.org/en/countries/asia/pakistan#1