Case Study: Changing mindsets: Girls take the lead in ending sexual violence in Nigeria
Date: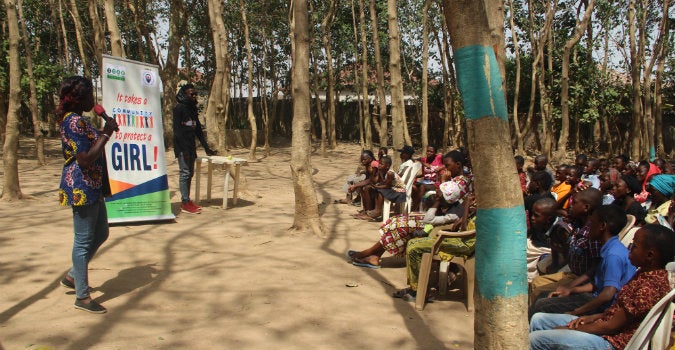 "I learned that it is important for us to value and protect [girls]" – Nelly F., a member of a newly established child protection committee in Wumba.
Violence against women and girls in all its forms remains a human rights violation worldwide, however some forms of violence occur with a higher prevalence in certain contexts. In Nigeria, violence against girls and early marriage is highly prevalent, with a UNICEF study in 2018 showing the percentage of women married before 18 to be 44 per cent.[1]
In response to calls by the Nigerian government for non-governmental organizations to set up efforts to prevent and end violence against girls, the Sexual Offences Awareness and Victims Rehabilitation (SOAR) Initiative launched a project in 2016, with funding from the UN Trust Fund to End Violence against Women (UN Trust Fund) to prevent violence against girls. The project is mobilizing communities and schools to protect girls from sexual violence in two communities – Dutse and Wumba – in the municipal area of the capital Abuja.
Girls are playing a key role in determining what the project needs to focus on, which empowers them to lead the direction of the project. Ideas from girls involved in the project include establishing community-based child protection committees to respond to sexual assaults; training girls who are in and out of school to assert their rights; creating a Kids Club as a safe space; and teaching people to recognize and report sexual abuse.
In preparation for the project, SOAR held discussions in Dutse and Wumba with girls' peer groups, members of the local communities, teachers and students in schools. These revealed a severe lack of response mechanisms for addressing sexual violence against girls, and the meetings showed an eagerness to work on the topics from community members and leaders.
The community and school leaders' strong support encouraged and surprised some community members. Adamu Adeyemi, a member of Dutse child protection committee, said: "I never thought the members of this community will be committed to such an initiative."
As a result of the ideas collected from local girls, SOAR mobilized community members into child protection committees. These committees, comprised of 37 leaders from the community, have already seen an increase in reporting of assaults on girls which testifies to the need of having safe places to report violence and receive support.
Sophia Ibechone, a member of the Wumba committee, shared what she learned so far through the committee meetings, "I learned that no victim of rape should be blamed. I also learned that a child would rarely lie about sexual abuse."
As part of the intervention in the Kids Club, which acts as an educational and safe space, SOAR developed professional and culturally accepted educational and communications materials to train peer educators leading the Kids Club, which serves both boys and girls. Over 300 girls and boys attended the launch of the Kids Club in late 2017. The club meets monthly to allow children to interact safely and learn how to prevent sexual abuse.
Vincent Aben, a member of Wumba child protection committee, said:
"I am so very happy this project has come into our community… your organization came to Wumba because my daughter was raped two years ago and I could not do anything about it because the person had more influence. I know your presence will help the girls in this community, including my daughter."
[1] http://evaw-global-database.unwomen.org/en/countries/africa/nigeria#4