FUSA para la salud integral con perspectiva de genero y derechos asociación civil (Civil Association for Integral Health with a Rights Perspective) implemented the three-year project "DeSeAr Project (Sexual Rights in Argentina) with Inclusion: Promoting Access to Sexual and Reproductive Rights for Women and Girls with Disabilities in Argentina" across four regions with the support of the UN Trust Fund from 2018 to 2021. The goal was to promote the sexual and reproductive health (SRH) rights of women and girls with disabilities. The final evaluation found that key service providers were better able to provide disability-inclusive, rights-based SRH information and services. Additionally, women and girls with disabilities were empowered to exercise and defend their rights.
The Center for Reproductive Rights received a grant from the UN Trust Fund to End Violence against Women for its three-year project "Ensuring Access to Reproductive Healthcare for Survivors of Sexual Violence in Honduras". The project aimed to protect the health and well-being of survivors of sexual violence and lead a multi-faceted legal advocacy campaign. The final evaluation found that despite its broad goals, the project successfully engaged all institutions and stakeholders that provide strategies to improve access to sexual and reproductive health services for women and girls, particularly survivors of sexual violence.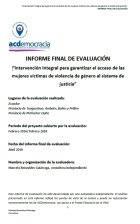 The project "Comprehensive Intervention to Guarantee Access to Justice for Women Victims of Gender-Based Violence", implemented by ACDemocracia, was funded from February 2016 to February 2018 by the UN Trust Fund to End Violence against Women. The final evaluation found that strategic partnerships – in this case with national and local authorities – were crucial to the project's successes, which included improved access to justice for survivors of violence and a new law.