The Center for Reproductive Rights received a grant from the UN Trust Fund to End Violence against Women for its three-year project "Ensuring Access to Reproductive Healthcare for Survivors of Sexual Violence in Honduras". The project aimed to protect the health and well-being of survivors of sexual violence and lead a multi-faceted legal advocacy campaign. The final evaluation found that despite its broad goals, the project successfully engaged all institutions and stakeholders that provide strategies to improve access to sexual and reproductive health services for women and girls, particularly survivors of sexual violence.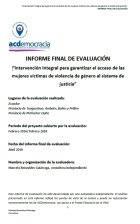 The project "Comprehensive Intervention to Guarantee Access to Justice for Women Victims of Gender-Based Violence", implemented by ACDemocracia, was funded from February 2016 to February 2018 by the UN Trust Fund to End Violence against Women. The final evaluation found that strategic partnerships – in this case with national and local authorities – were crucial to the project's successes, which included improved access to justice for survivors of violence and a new law.
From December 2013 to November 2016, the UN Trust Fund to End Violence Against Women provided funding support to the Jamaica AIDS Support for Life (JASL) project "Expanding Gains to Decrease and Prevent Violence against Women in the context of HIV and AIDS". The evaluation found JASL's initiative to be very successful, exceeding the number of direct beneficiaries it originally planned to engage, expanding the SRP and HIV services offered by JASL, and reaching more than 300,000 people through a social media campaign.