As a part of a six-year project, the Victims Support Section of the Extraordinary Chambers in the Courts of Cambodia, in collaboration with the Transcultural Psychosocial Organization Cambodia and the Cambodian Defenders Project, implemented Phase 2 of the Non-Judicial Gender Project. The final evaluation concluded that the project significantly contributed to positive change in the lives of target groups through transitional justice activities and initiatives to improve their access to psychological services and rehabilitation.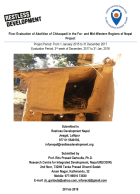 The project "Abolition of Chhaupadi in the Far- and Mid-Western Regions of Nepal", implemented by Restless Development Nepal, was funded from January 2015 to December 2017 by the UN Trust Fund to End Violence against Women. The final evaluation found the project had significantly increased rejection of chhaupadi practices and that the national law that criminalizes such practices was contributing to the sustainability of the project's results.
Between December 2013 and November 2015, the UN Trust Fund to End Violence against Women funded the Indonesian Positive Women's Network's initiative "One Stop Service: Integrated Services for Violence against Women Survivors and Women Living with HIV". The goal was to increase women's awareness of their rights and improve the health of women and girls in Jakarta and North Sumatra who are living with HIV/AIDS and experience gender-based violence. The final evaluation found the project was successful and particularly relevant.