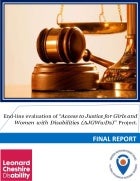 Leonard Cheshire Disability Zimbabwe implemented a three-year project "Access to Justice for Girls and Women with Disabilities in Zimbabwe" with the support of the UN Trust Fund. The project aimed to ensure that girls and women with disabilities have improved safety and access to justice. The final evaluation found that the project was successfully implemented through its strategic pillars of response and prevention.
ALAFIA received funding from the UN Trust Fund to End Violence against Women to implement the project "Eradication of harmful customary widowhood practices that can lead to HIV/AIDS infection" in 24 villages in Togo. The final evaluation showed that the project ended degrading and humiliating widowhood rites against women in these villages and established the principle of equal sharing of inheritance between women and men.
From January 2014 to January 2017, the UN Trust Fund to End Violence against Women funded SOS-Esclaves' initiative "Justice for Women Leaving Slavery" in Mauritania. The project was built on interconnected activities and international advocacy. The final evaluation found it had been particularly successful in providing legal and educational support for women and children through training, access to legal services and work with government institutions.