The project "Improving the Well-being of SGBV Survivors Among Syrian Refugees and Vulnerable Jordanian Women" was implemented by the Arab Women Organization of Jordan (AWO) between April 2017 and March 2019, supported by a grant from the UN Trust Fund to End Violence against Women. The initiative aimed to enhance the response to sexual and gender-based violence in two of Jordan's regions, Irbid and Mafraq, by improving social protection and prevention mechanisms. The final project evaluation found that it was highly effective and reached over seven times the target number of beneficiaries.
From March 2017 to February 2019, the UN Trust Fund to End Violence against Women provided funding to Asuda for Combating Violence against Women for its initiative "Improving the Response Mechanisms to Sexual and Gender-based Violence against Syrian Refugee Women and Girls in Iraqi Kurdistan", which was run in partnership with the Ceasefire Center for Civilian Rights. The initiative included all actors involved in the issue of sexual and gender-based violence in the context of a displaced population. The final evaluation found the project had improved community and stakeholders' responses and social attitudes towards sexual and gender-based violence in Syrian refugee communities, and that the project's strategy should be used as a model for other initiatives in a similar cultural and humanitarian context.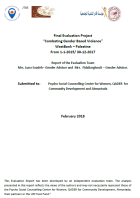 The project "Combating Gender Based Violence", implemented by the Psycho-social Counselling Center for Women in collaboration with QADER for Community Development and Almuntada, was funded from January 2015 to December 2017 by the UN Trust Fund to End Violence against Women. The final evaluation concluded that the project had empowered women and girls to talk about issues of violence both within and outside the family context.