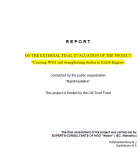 The UN Trust Fund to End Violence against Women funded Najoti Kudakon's initiative "Establishment of the Women's Support Group and improving of the shelter in Kulob city". The project, implemented in partnership with Dunyoi Kudakon , aimed to support women and girls living in remote, mountainous areas of Tajikistan's Kulob region. The final evaluation concluded that the programme was well implemented and successful.
Women's Initiative for Gender Justice received a grant from the UN Trust Fund to End Violence against Women for its project "Advancing Gender Justice in Countries under ICC investigation" from January 2013 to December 2015. The evaluation found that the project improved medical and psychological documentation of sexual assault, strengthened police investigations and increased the likelihood of justice and reparations for women and girl survivors of sexual violence.
The UN Trust Fund to End Violence against Women provided funding for "Women's Empowerment in Afghanistan and Tajikistan for Displaced Persons through Legal Aid and Training to Combat Violence against Women" initiative from January 2013 – November 2015. The evaluation found the most significant change to be the increasing awareness of women's rights and SBGV in Afghanistan.